Actions, events, reports, and updates from the work of the No Fighter Jets campaign.
Join Danaka Katovich (CODEPINK), James Leas (Save Our Skies VT), Paul Maillet (Retired colonel and former Green party candidate), and moderator Tamara Lorincz (VOW, WILPF) on February 9 at 7:30PM ET for a virtual panel and Q&A on Lockheed Martin's F-35 Fighter Jet and Canada's decision to buy them. Register HERE.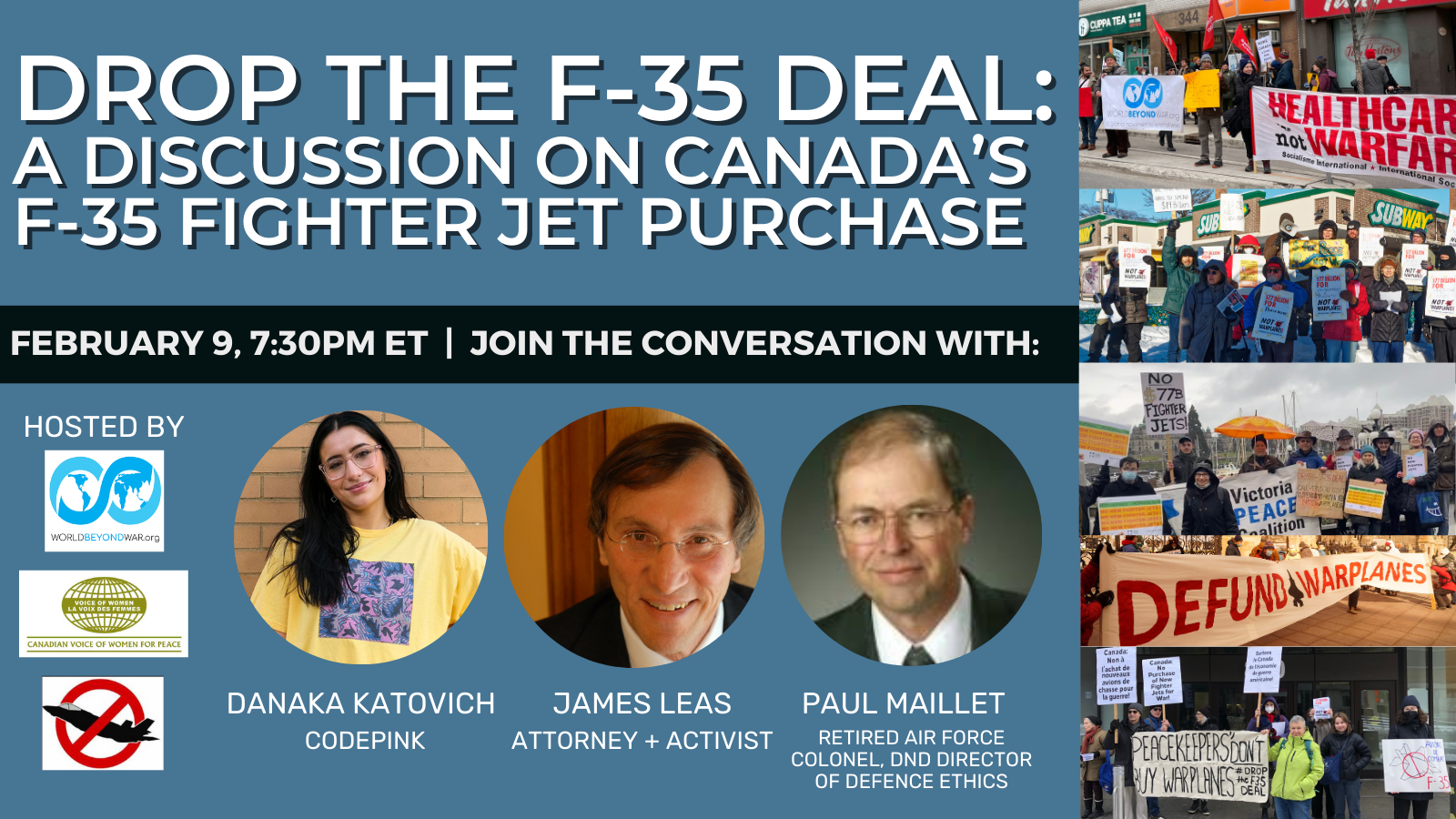 On January 9th, 2023, Canadian Defense Minister Anita Anand announced that Canada is officially buying 88 F-35 fighter jets from American weapons giant Lockheed Martin in a phased approach despite widespread opposition & controversy. Despite our disappointment in this development, the #NoFighterJets movement isn't going anywhere. Rather, we will continue to mobilize against Canada's procurement of F-35 warplanes designed to destroy people, ecosystems, and infrastructure at home and abroad. Read more.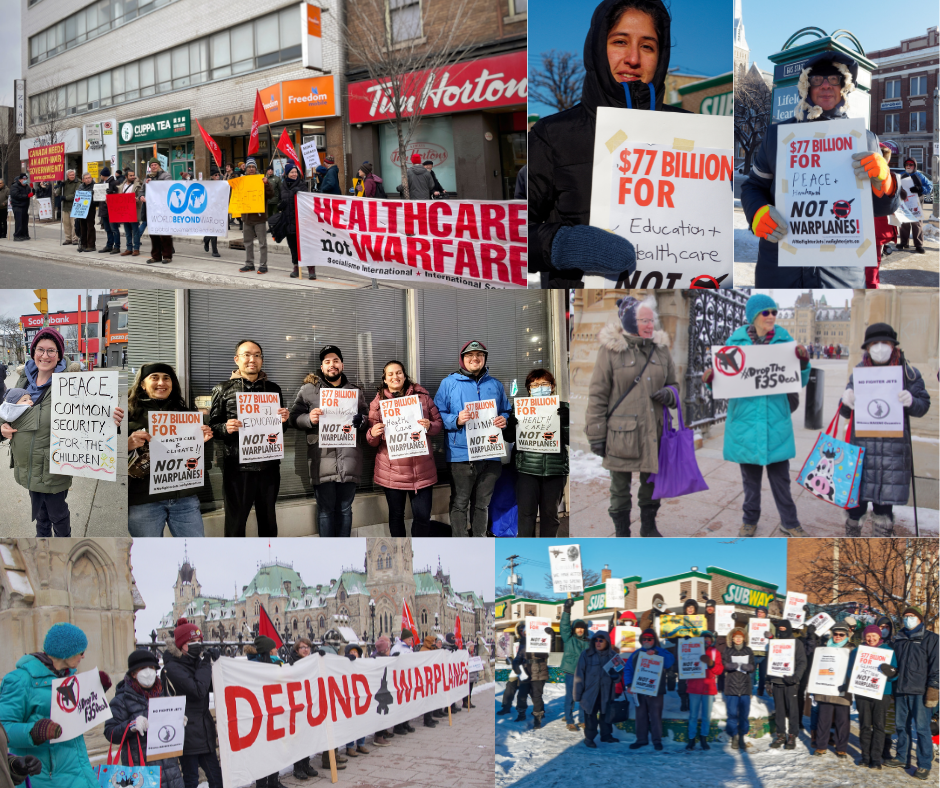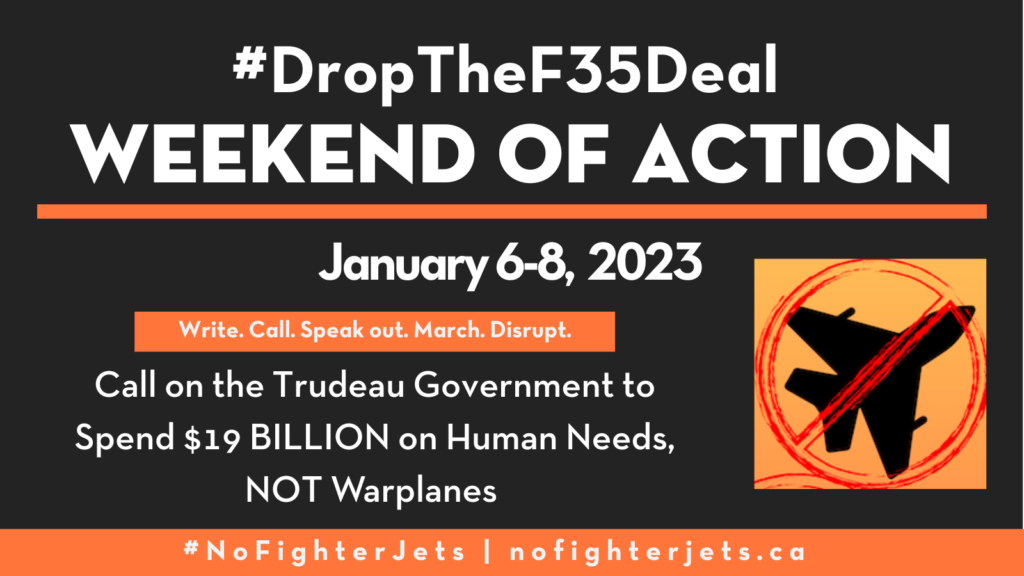 Peace activists will be on the streets from January 6-8, demanding that the Trudeau say no to the F-35 fighter jet deal. The No Fighter Jets campaign encourages peace-loving people across Canada to join demonstrations and activities across Canada for the weekend of action from or to organize your own actions.
To learn more and join us, check out the weekend of action homepage here.
No Fighter Jets Coalition calls on Trudeau Government to #DropTheF35Deal
On December 22, Global News and La Presse reported that the Canadian government is planning on signing a contract with Lockheed Martin early in the new year. According to a leak by federal government officials, the Department of National Defence has received approval to buy the F-35s despite years of widespread opposition from Canadian citizens, celebrities and parliamentarians. As such, the movement to #DropTheF35Deal and push for #NoFighterJets is as urgent as ever.
Read the Coalition's response to these developments and more here.
Joining the International Campaign
to
Ground the F-35s
Today, over 25 Canadian civil society organizations under the No Fighter Jets Coalition have joined the international campaign to Ground the F-35s. We joined a press conference with Andrew Feinstein, author of Shadow World: Inside the Global Arms Trade, Kawthar Abdullah of the Yemeni Alliance Committee, and Ben Cohen, co-founder of Ben & Jerry's Ice Cream, who has campaigned for years against the F-35s.
Check out our briefing to MPs to cancel the planned F-35 contract. Please share this briefing with your MP and tell the to cancel the F-35 contract. Cancel the contract, ground the F-35s. #GroundTheF35 #NoNewFighterJets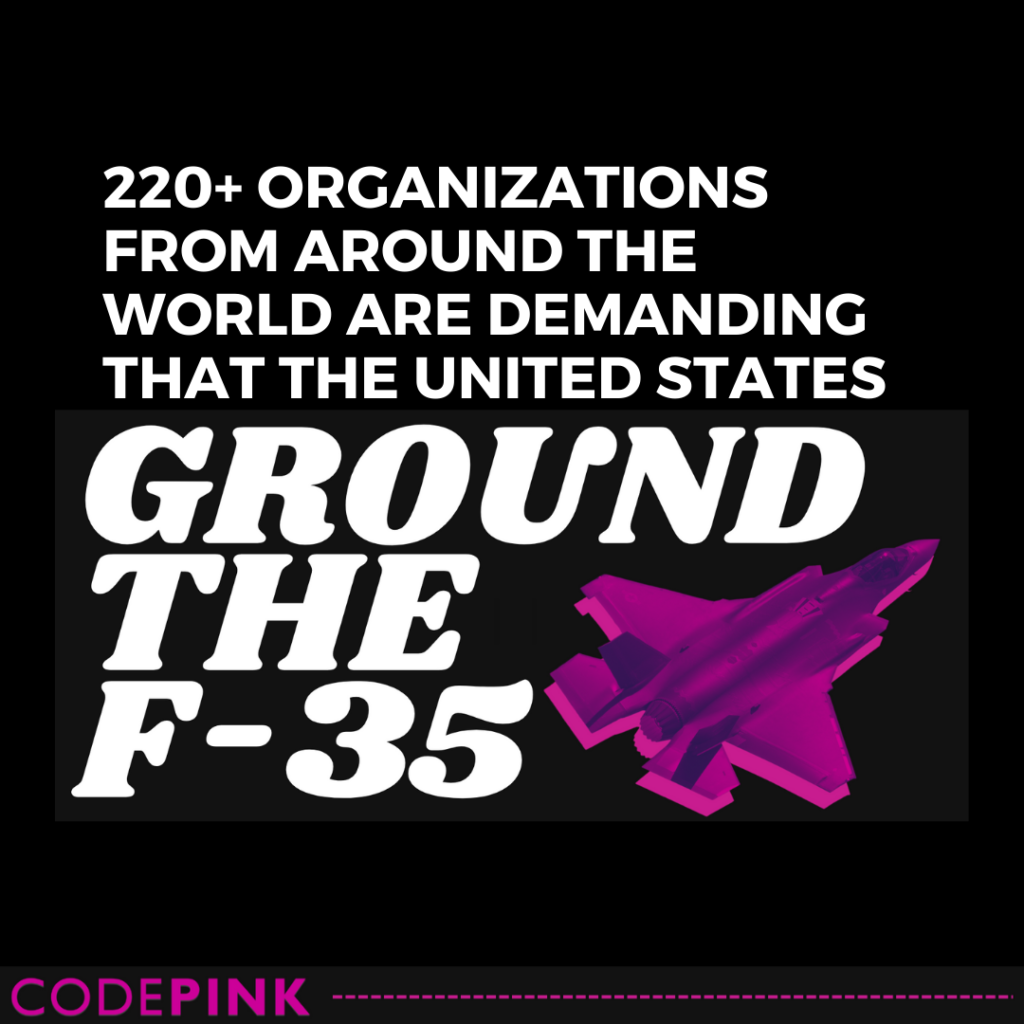 ---
We Fixed Your Ad for You, Lockheed Martin. You're Welcome.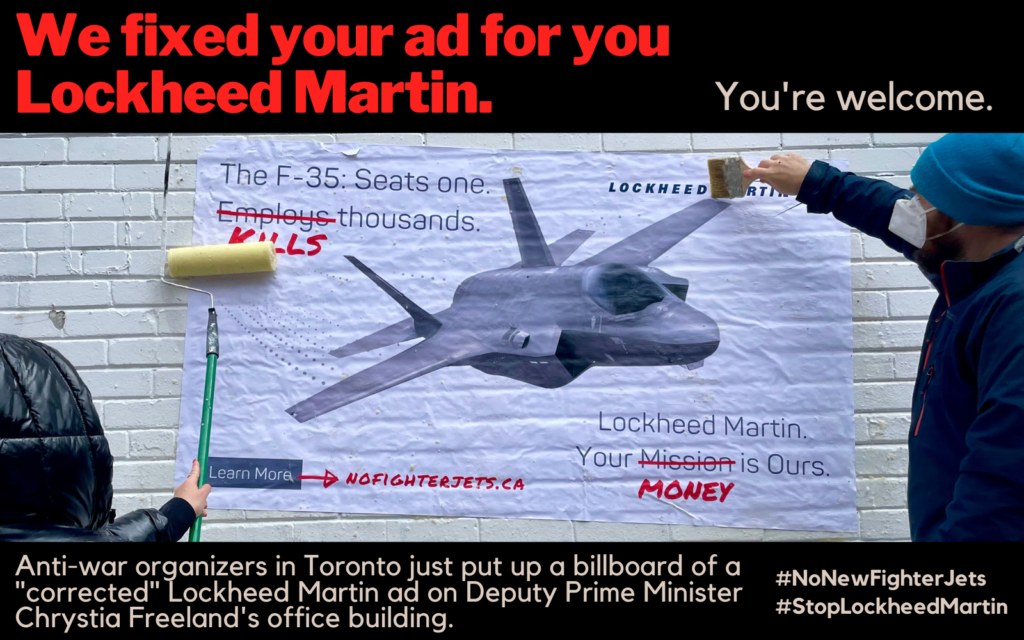 Anti-war organizers in Toronto just put up a billboard of a "corrected" Lockheed Martin ad on Deputy Prime Minister Chrystia Freeland's office building.
---
Rejecting Lockheed Martin and their fighter jets at rallies and actions in Montreal, Ottawa, Halifax, and Collingwood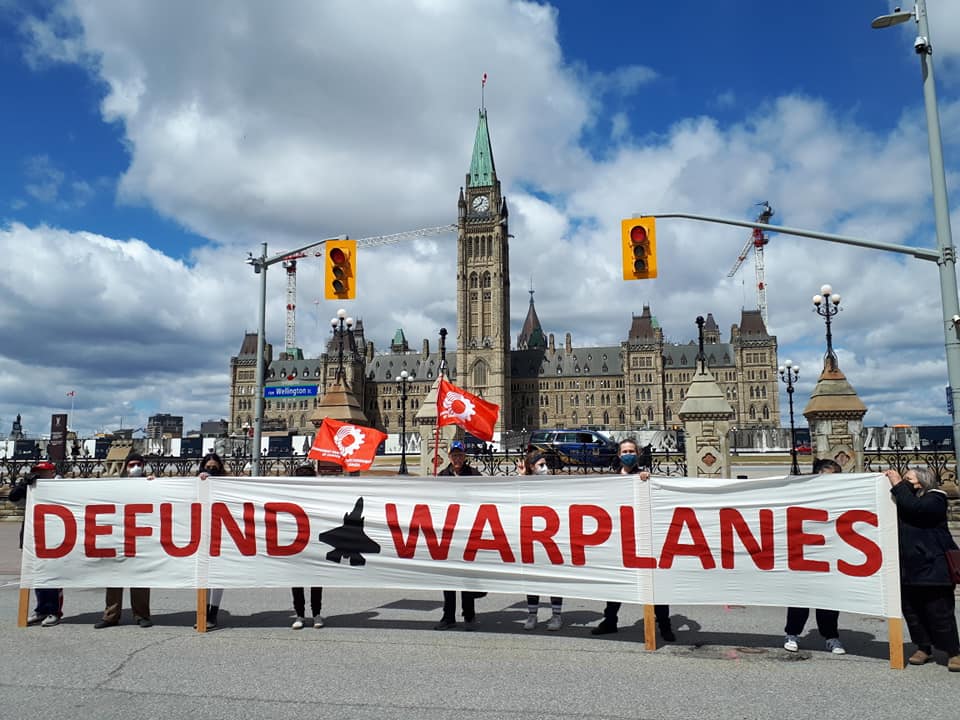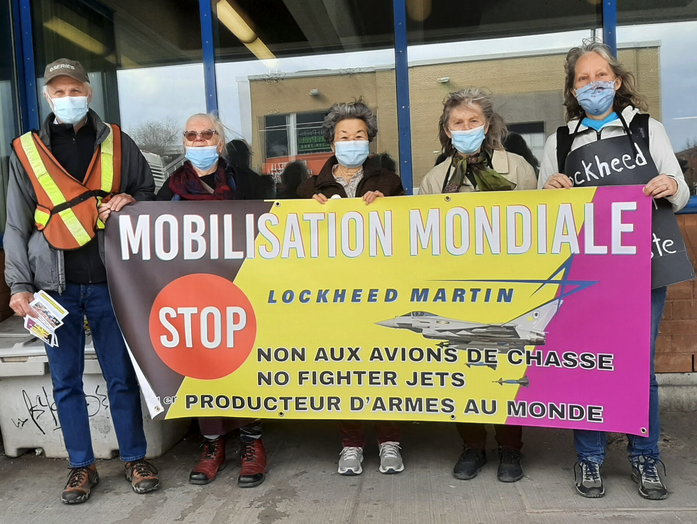 Read coverage of the Ottawa rally in the Ottawa Citizen here.
Read about the Montreal rally here.
Learn more about the Global Mobilization to #StopLockheedMartin from April 21-28 here.
---
New Parliamentary Petition launched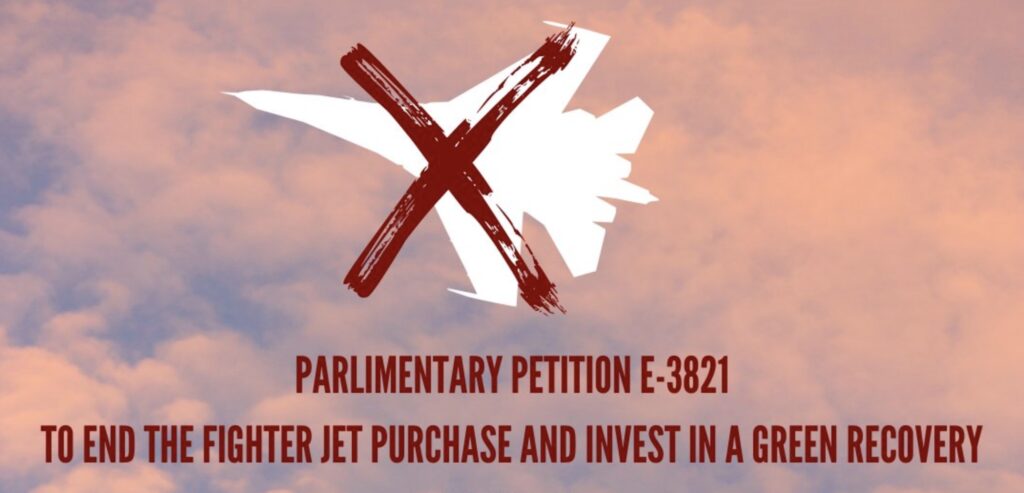 We launched a new Parliamentary Petition calling on Justin Trudeau to scrap his $19 billion plan to buy 88 new war planes and invest in a #JustTransition instead.

Pétition en francais içi.
You can spread the word on twitter, facebook, and instagram too. Use the hashtag #NoNewFighterJets.
---
Two important events from February 2022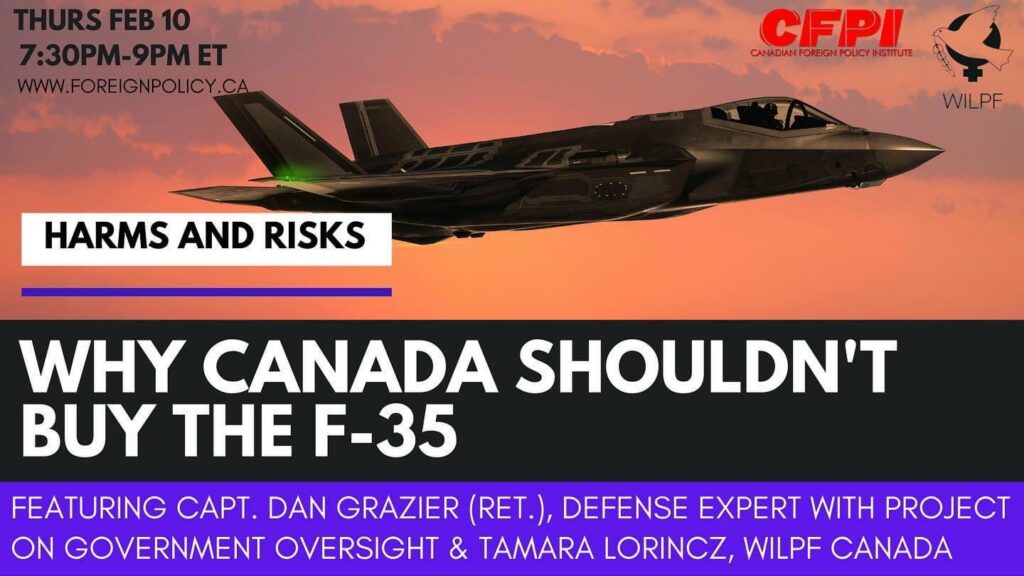 Before taking office, Justin Trudeau assured voters he would not purchase the F-35 fighter jet. Now the Liberals look set to break their promise and purchase 88 of these dangerous, climate-destroying warplanes for a sticker price of $19 billion – it's the second most expensive procurement in Canadian history.

On Thursday February 10, we heard from Capt. Dan Grazier (ret.), defense expert about the highly flawed F-35 stealth fighter jet program, and Tamara Lorincz, researcher and member of the Women's International League for Peace and Freedom.

Watch the recording of this webinar here.
Canada plans to purchase fighter jets — what are the implications for our health and safety? Dr. Down, President of International Physicians for the Prevention of Nuclear War Canada addressed this question in a talk on Wednesday February 9 and spoke about the need to halt this purchase.
---
New report 'Soaring' about the harms and risks of fighter jets and why the government must not buy a new fleet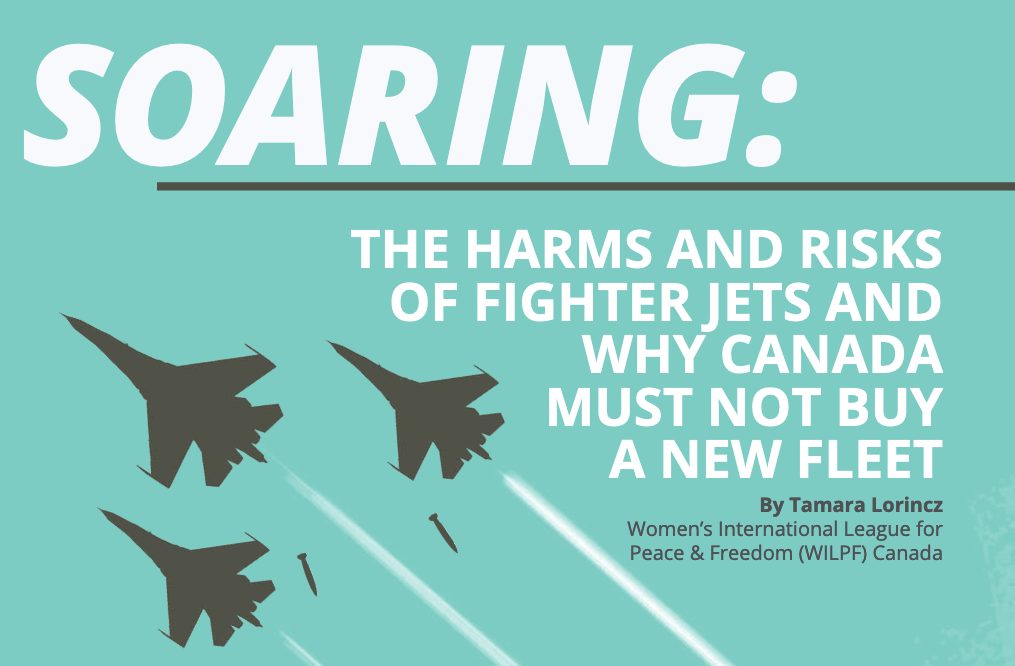 As the Trudeau government plans to buy 88 new fighter jets for a price tag of $19 billion, the second most expensive procurement in Canadian history, WILPF Canada is sounding the alarm.
WILPF Canada is releasing a new 48-page report Soaring: The Harms and Risks of Fighter Jets and Why Canada Must Not Buy a New Fleet. The report examines the past and present harmful impacts, including environmental, climate, nuclear, financial, socio-cultural and gender-based, of fighter jets and the air force bases where they are stationed.
With this report, WILPF Canada is calling on the federal government to be transparent with Canadians and with Indigenous communities about the adverse impacts and the full costs of a new fleet of fighter jets. We are asking the federal government to conduct and publicize a full life-cycle cost analysis, an environmental assessment, a public health study and a gender-based analysis of the fighter jet procurement before any final decision is made.
Along with the report, is also a 2-page summary in English and a 2-page summary in French. We are encouraging Canadians to sign Parliamentary petition e-3821 to let Members of Parliament know that they are opposed to the purchase of new costly, carbon-intensive combat aircraft.
---
NDP must oppose F-35 purchase
The Liberals are moving towards acquiring 33% more F-35's than even Harper's Conservatives had planned to purchase. But the NDP has been largely silent as the Liberals look set to break their promise on the costly warplane the NDP have long opposed.
Take a minute to send a letter to the NDP leader Jagmeet Singh, NDP Defence Critic Lindsay Mathyssen, and all NDP MPs calling on them to start raising questions about the Liberal's fighter jet plans.
---
The #NoNewFighterJets Canada-Wide Week of Action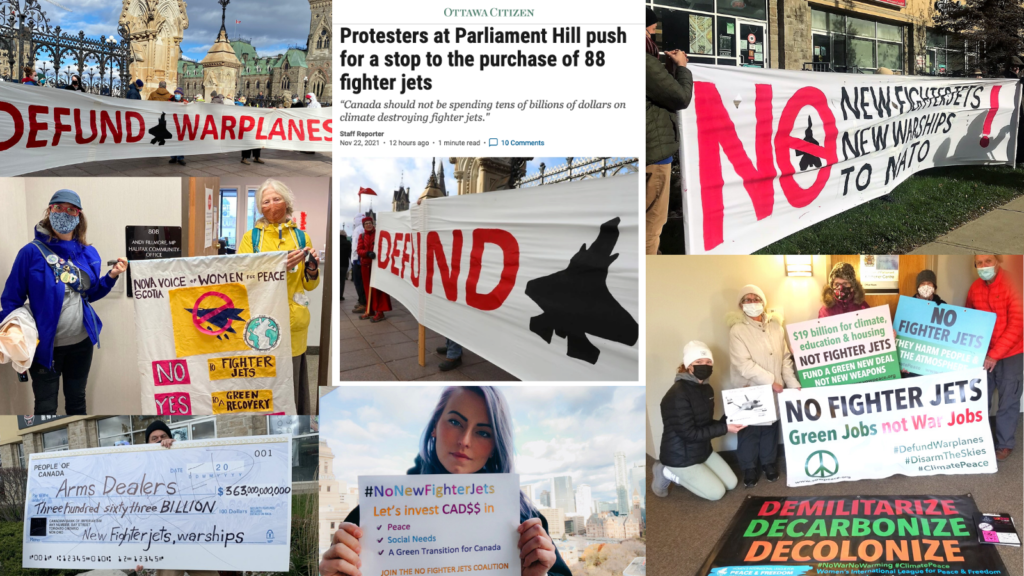 The No Fighter Jets Canada-Wide Week of Action was a big success! from November 22-26 we protested to stop the federal government from buying 88 new fighter jets for $77 billion.

Learn more about the week of action here.
---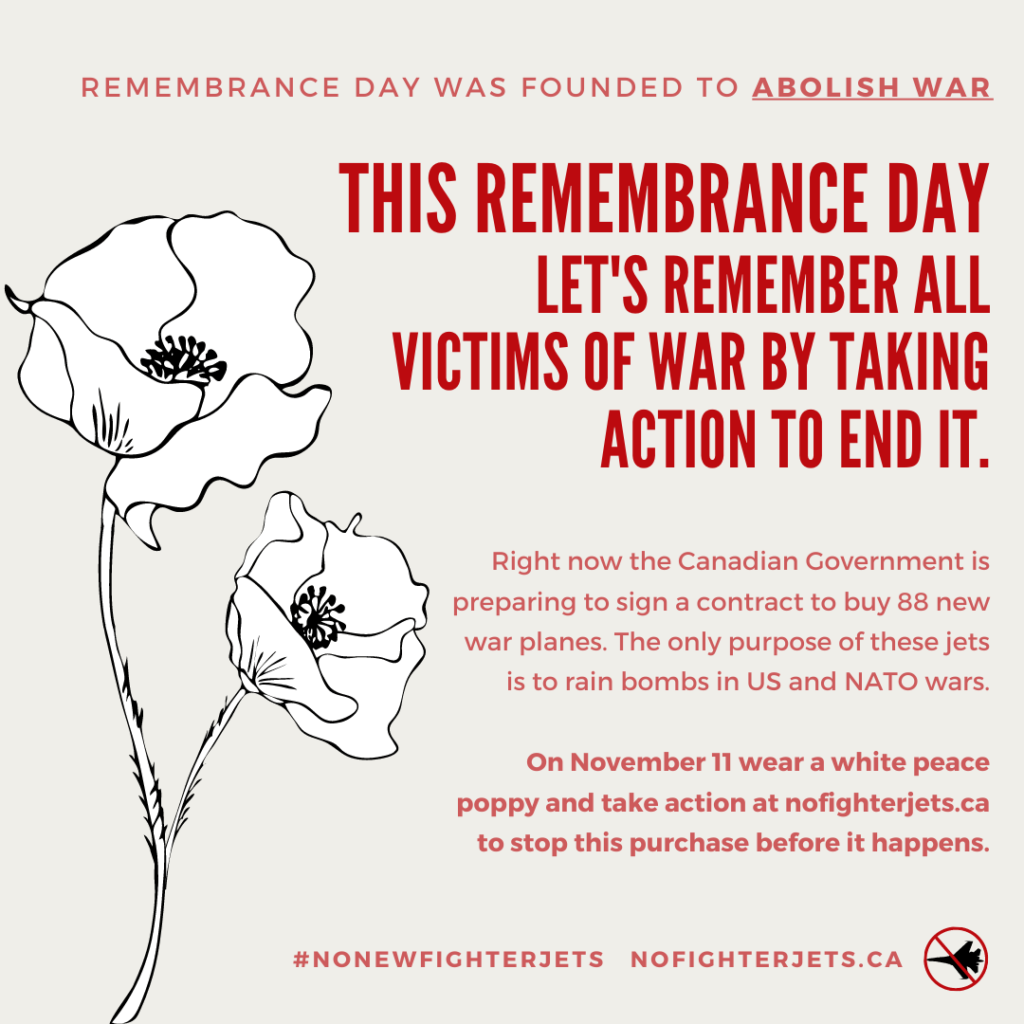 ---
Webinar and Film Screening: The Trauma of Fighter Jets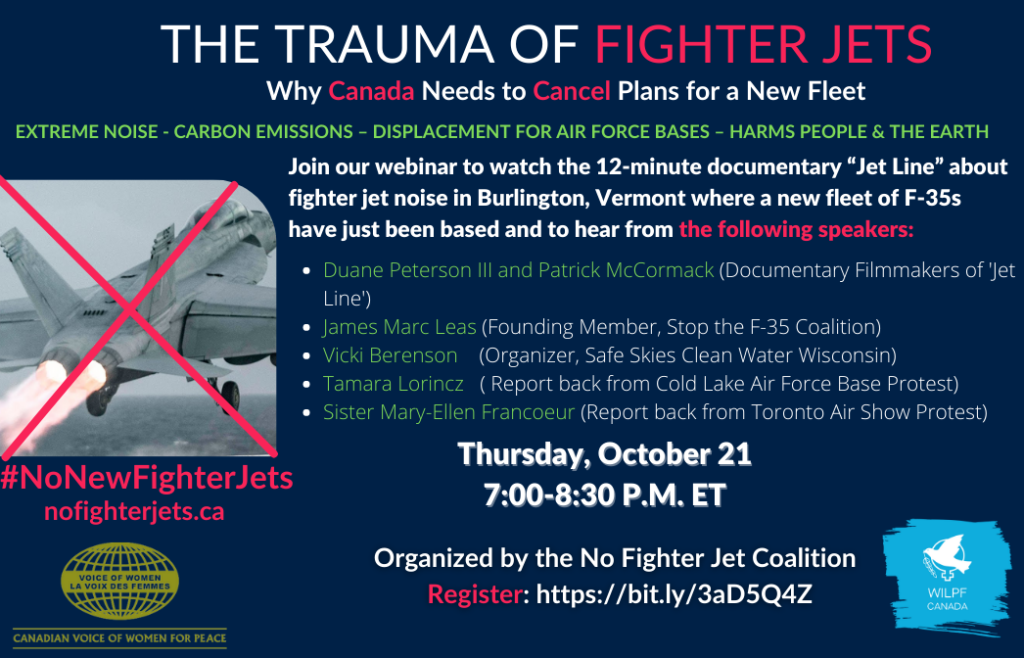 On Thursday, October 21, from 7:00-8:30 PM ET we hosted a webinar featuring the 12-minute documentary "Jet Line" about fighter jet noise in Burlington, Vermont and speakers from 'Stop the F-35 Coalition' in Vermont, "Safe Skies Clean Water" in Wisconsin and 'No Fighter Jets Coalition' in Canada. Watch it here.
---
Open letter launched!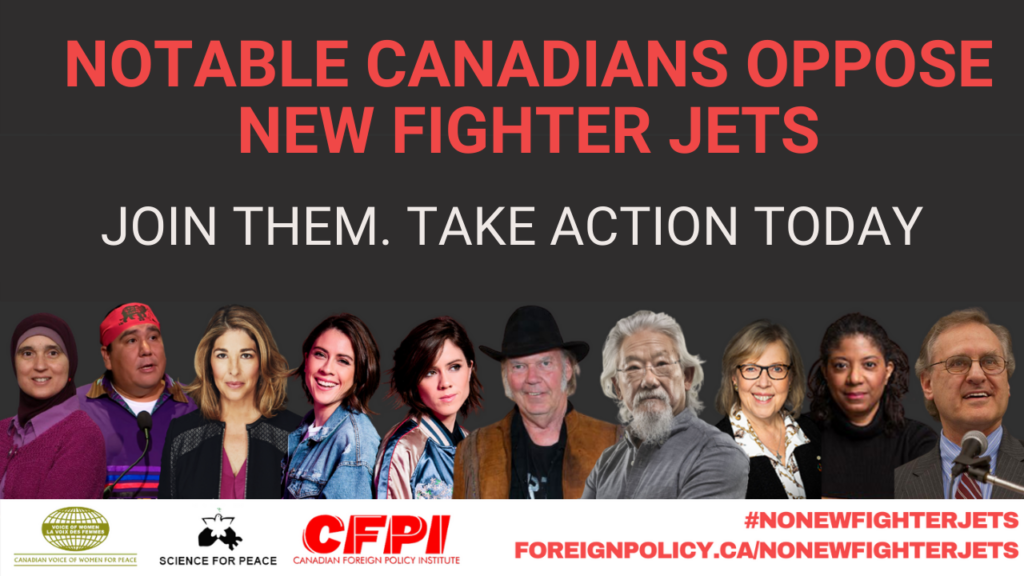 Over 100 public figures have joined us in asking Justin Trudeau and Harjit Sajjan to spend $77 billion on ensuring a just recovery instead of on new fighter jets! Read the letter and join them here!
Here's a sneak peek of some of the campaign's recent media coverage.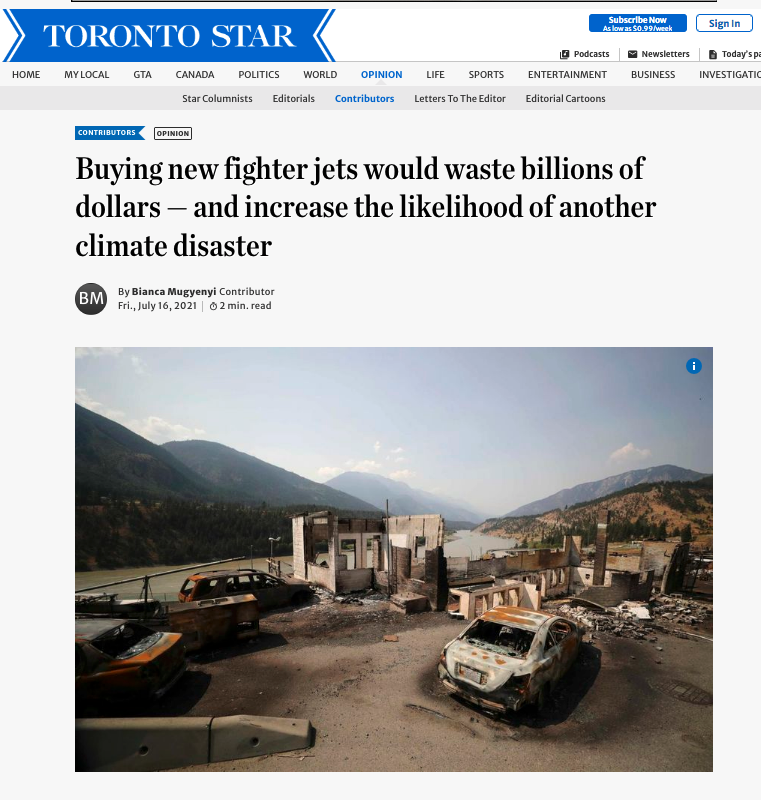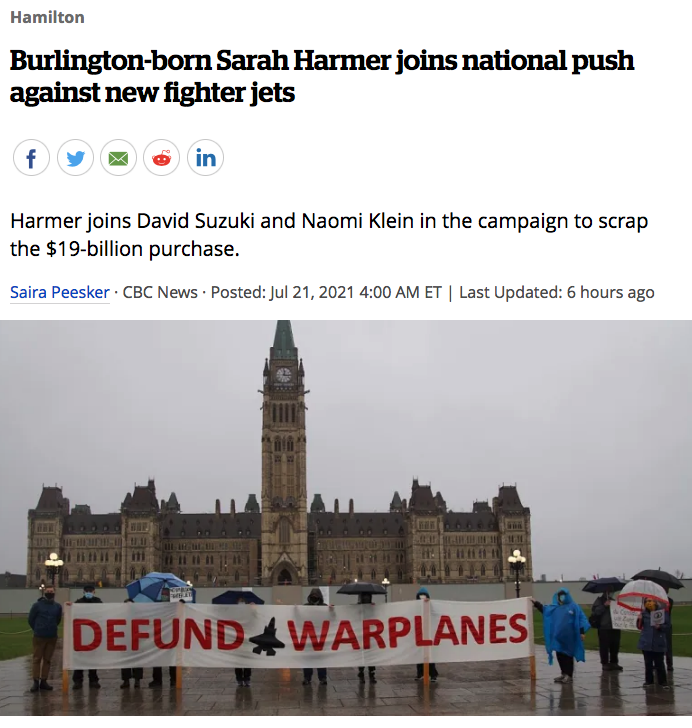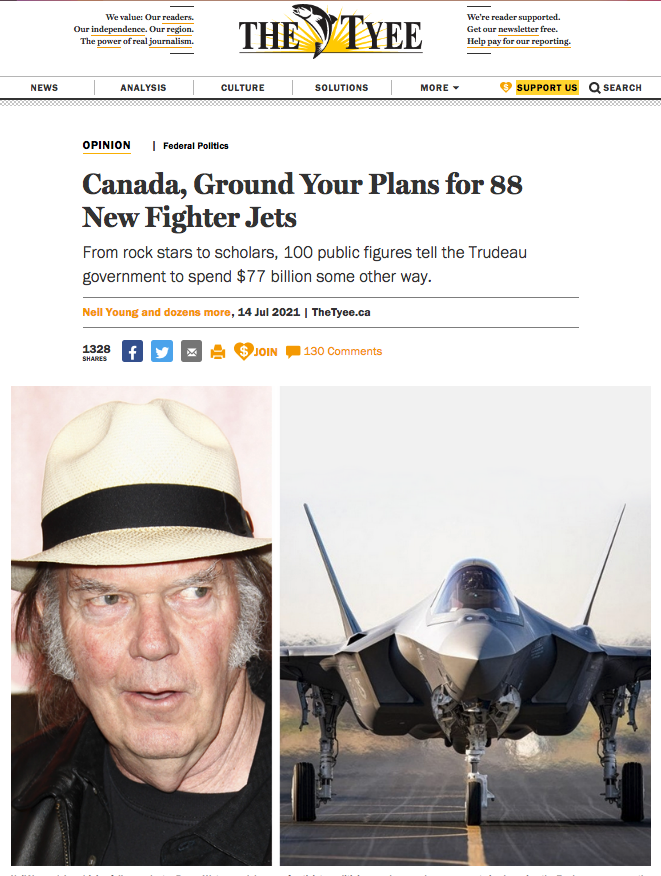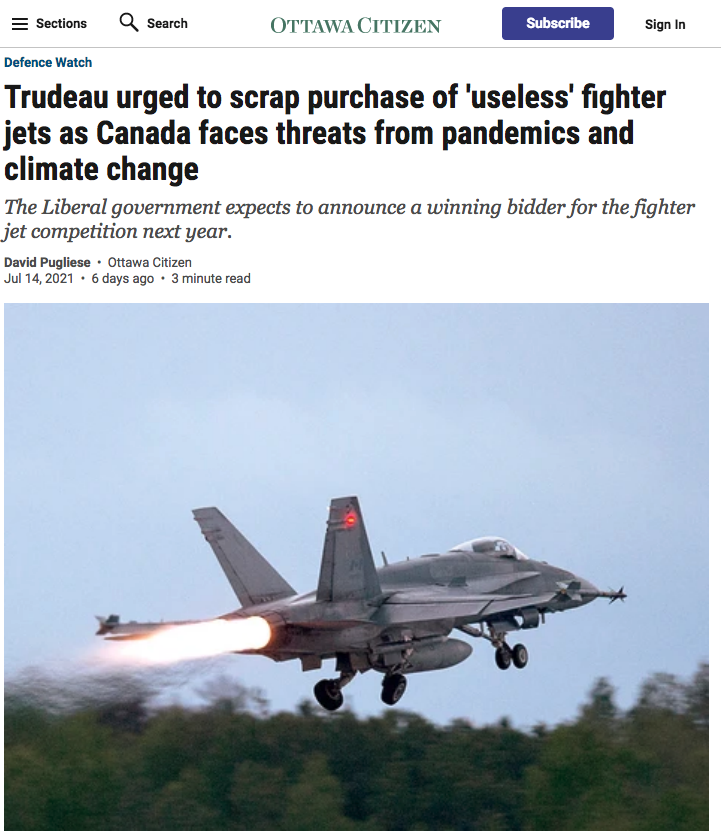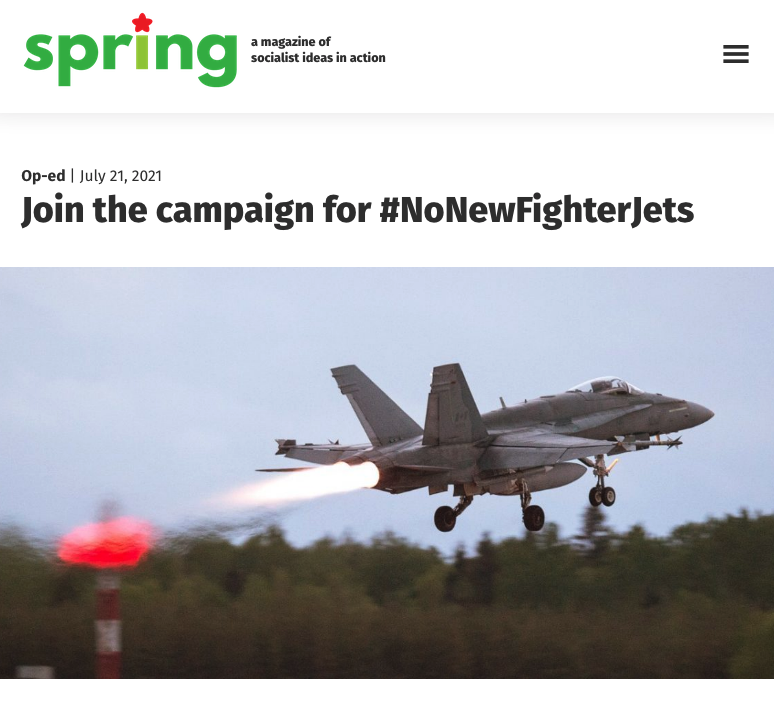 ---
Our new and improved Lockheed Martin ad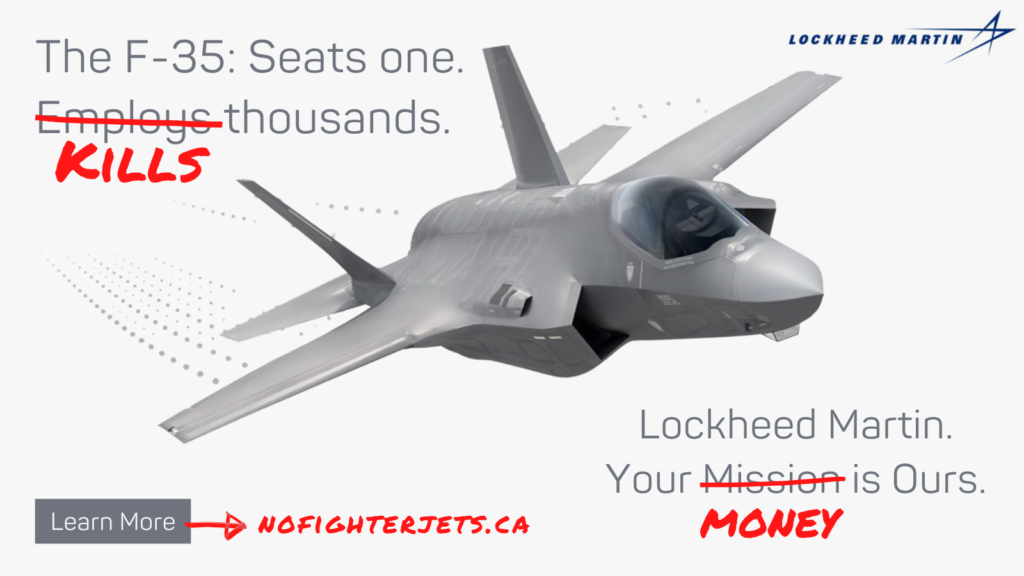 Lately we've been noticing Lockheed Martin fighter jet ads everywhere, and we know they're especially targeted at Canadian politicians. So we fact-checked one and placed the ad where tens of thousands of folks across Canada would see it – in online news media and on social media.
Help us make sure everyone who has seen Lockheed Martin's ubiquitous ads also sees our fact-checked version by sharing it on twitter and facebook.
---
Parliamentary Petition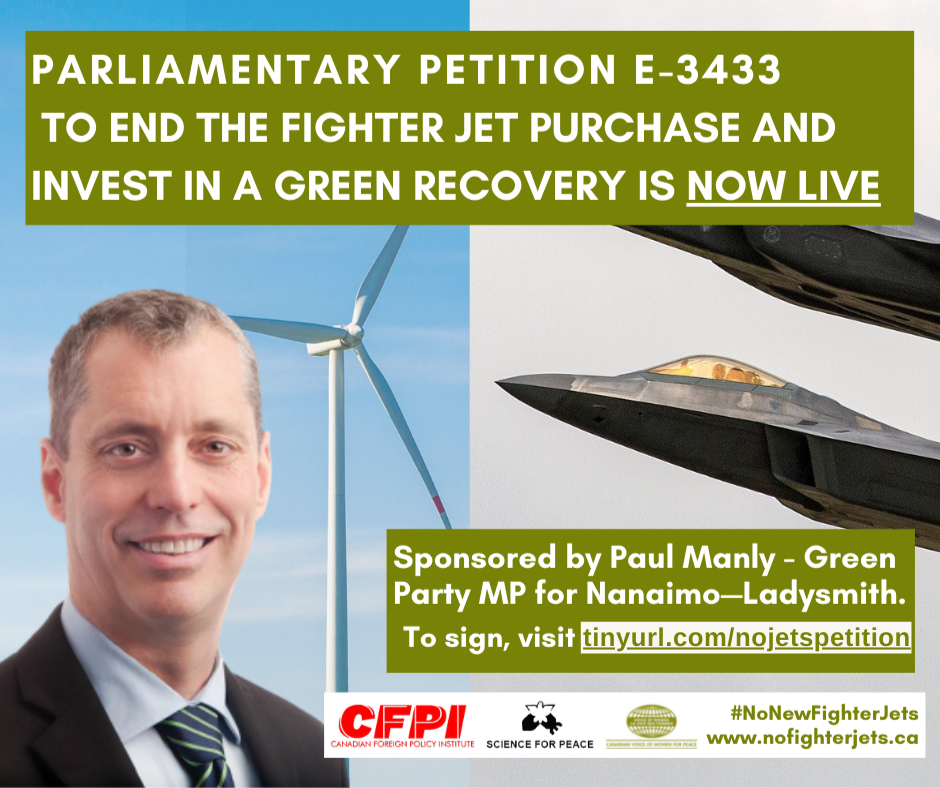 On May 19 2021 we launched a new parliamentary petition calling for Canada to cancel the fighter jet purchase, include the military's carbon emissions in the government's GHG emission reduction plan, and invest in a conversion plan to create thousands of jobs to help transition Canada away from fossil fuels and armed force. It was presented in the House of Commons on June 21.
---
Report: Uncovering the True Cost of 88 New Fighter Jets
On February 25 2021 the No Fighter Jets Coalition launched our first report, detailing the true cost of the planned jet purchase.
Download the full report as a pdf here.
---
Thank you to everyone who participated in the Fast to Stop the Jets
Across Canada on April 10 & 11 2021, public fasts, vigils, and demonstrations honoured those who have been killed by Canadian war planes and rejected Canada's plans to buy 88 new bomber jets. Two people, Vanessa Lanteigne and Brendan Martin, fasted for 14 days. Learn more here.
Learn more about the April 10 & 11 fast here. Watch the webinar where the fast to stop the jets was first announced here.