Two important events from February 2022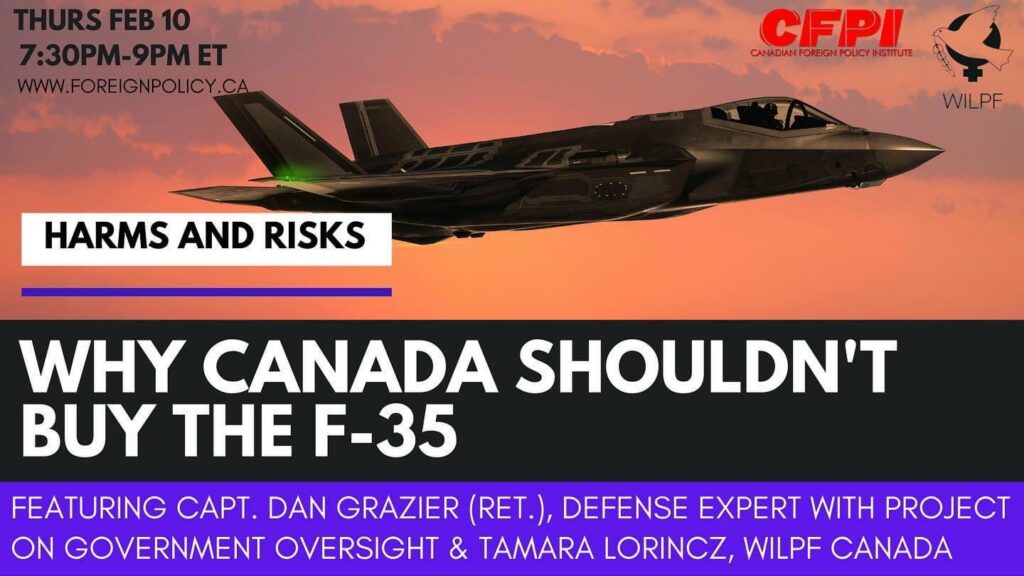 Before taking office, Justin Trudeau assured voters he would not purchase the F-35 fighter jet. Now the Liberals look set to break their promise and purchase 88 of these dangerous, climate-destroying warplanes for a sticker price of $19 billion – it's the second most expensive procurement in Canadian history.

On Thursday February 10, we heard from Capt. Dan Grazier (ret.), defense expert about the highly flawed F-35 stealth fighter jet program, and Tamara Lorincz, researcher and member of the Women's International League for Peace and Freedom.

Watch the recording of this webinar here.
Canada plans to purchase fighter jets — what are the implications for our health and safety? Dr. Down, President of International Physicians for the Prevention of Nuclear War Canada addressed this question in a talk on Wednesday February 9 and spoke about the need to halt this purchase.
---
Webinar and Film Screening: The Trauma of Fighter Jets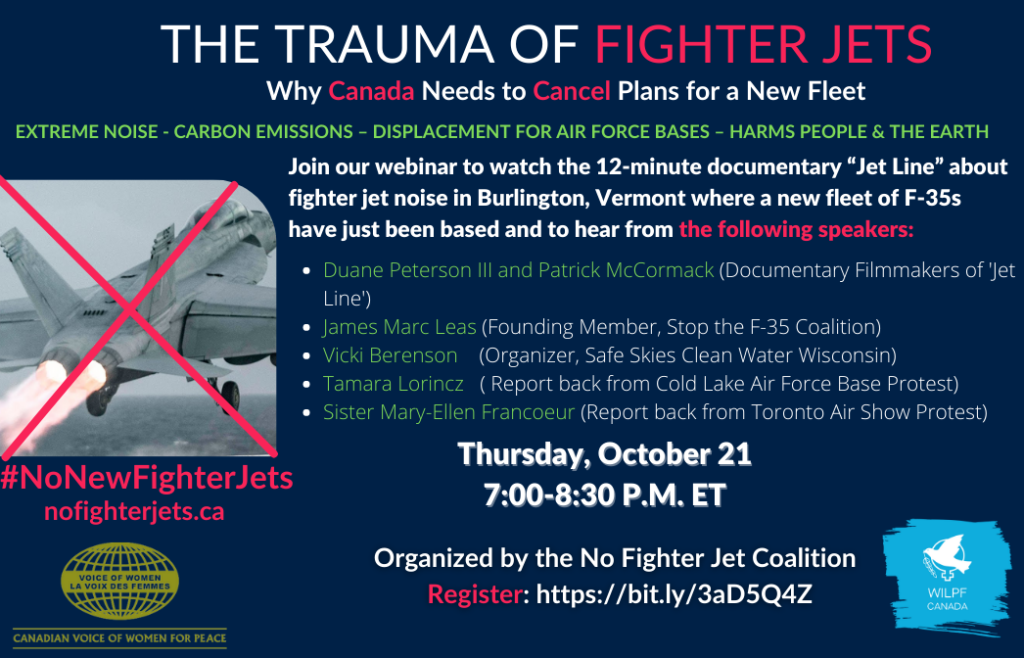 On Thursday, October 21, from 7:00-8:30 PM ET we hosted a webinar featuring the 12-minute documentary "Jet Line" about fighter jet noise in Burlington, Vermont and speakers from 'Stop the F-35 Coalition' in Vermont, "Safe Skies Clean Water" in Wisconsin and 'No Fighter Jets Coalition' in Canada. Watch it here.
---
Open letter launched!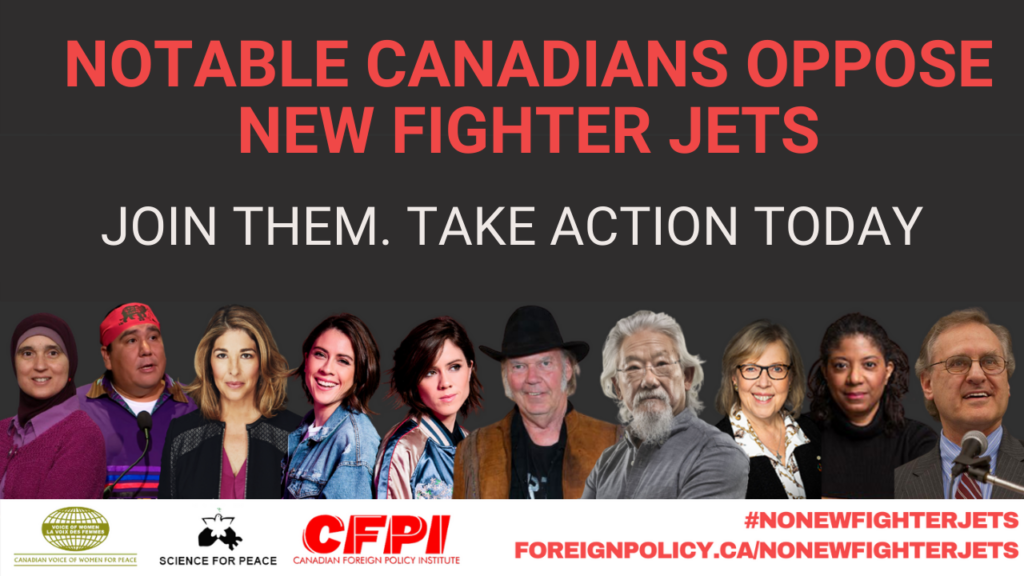 Over 100 public figures have joined us in asking Justin Trudeau and Harjit Sajjan to spend $77 billion on ensuring a just recovery instead of on new fighter jets! Read the letter and join them here!
Here's a sneak peek of some of the campaign's recent media coverage.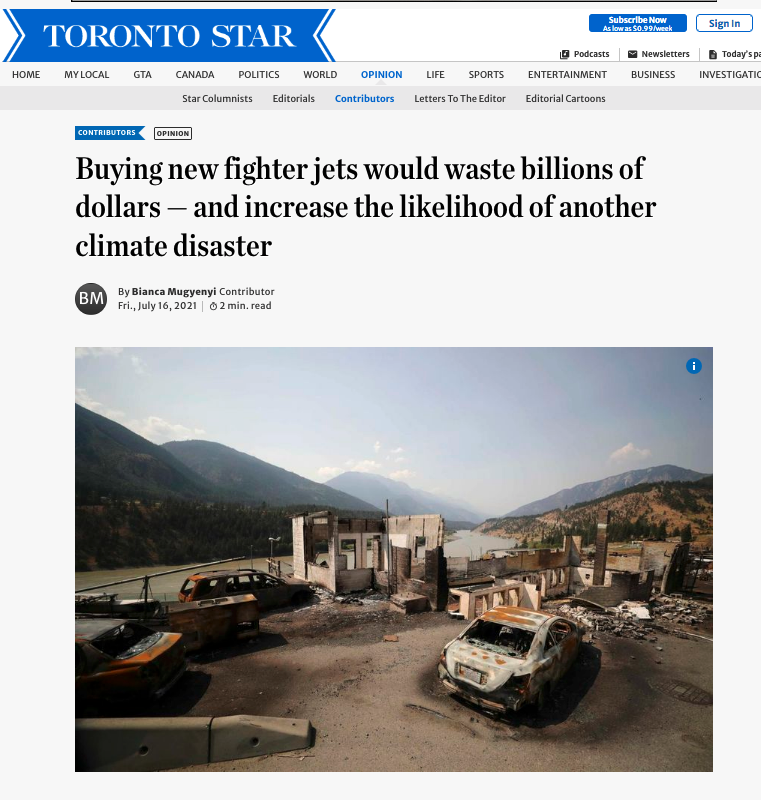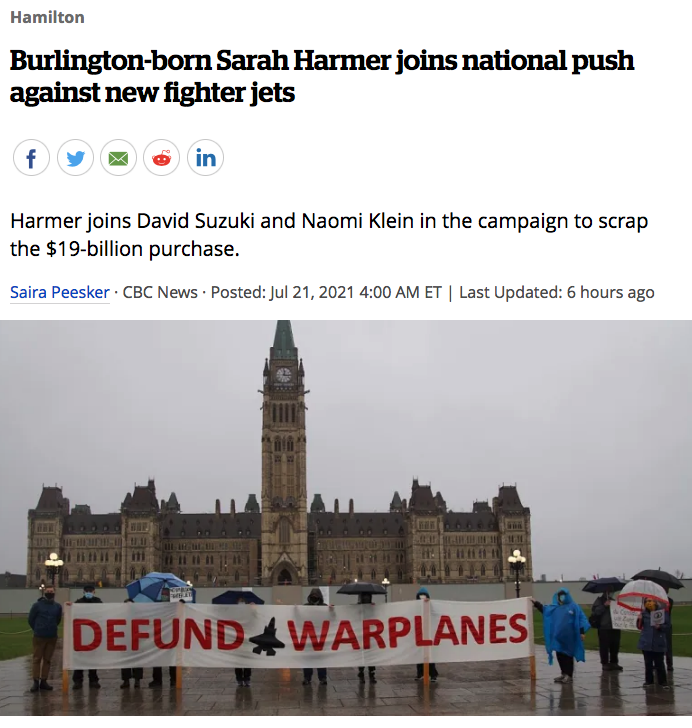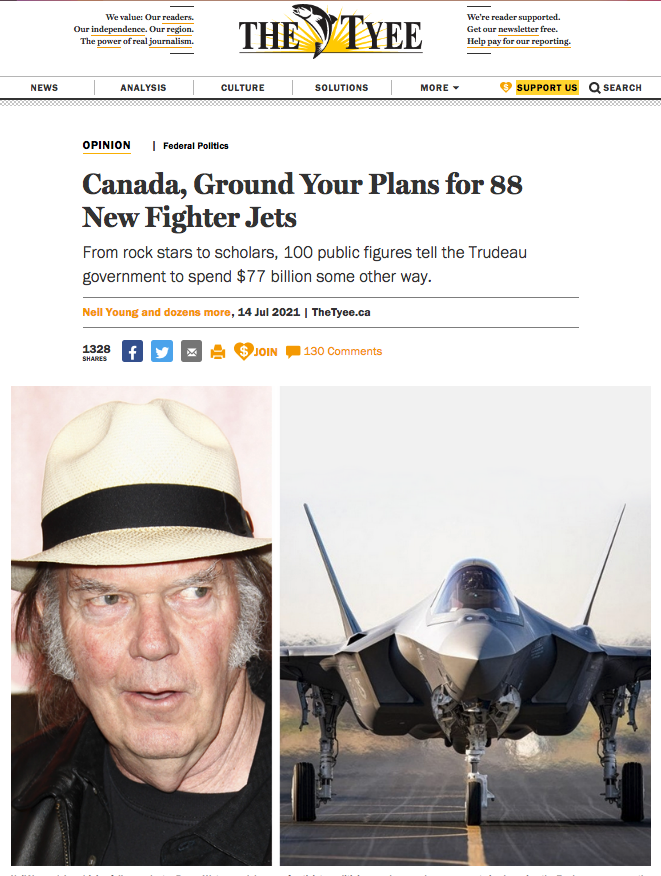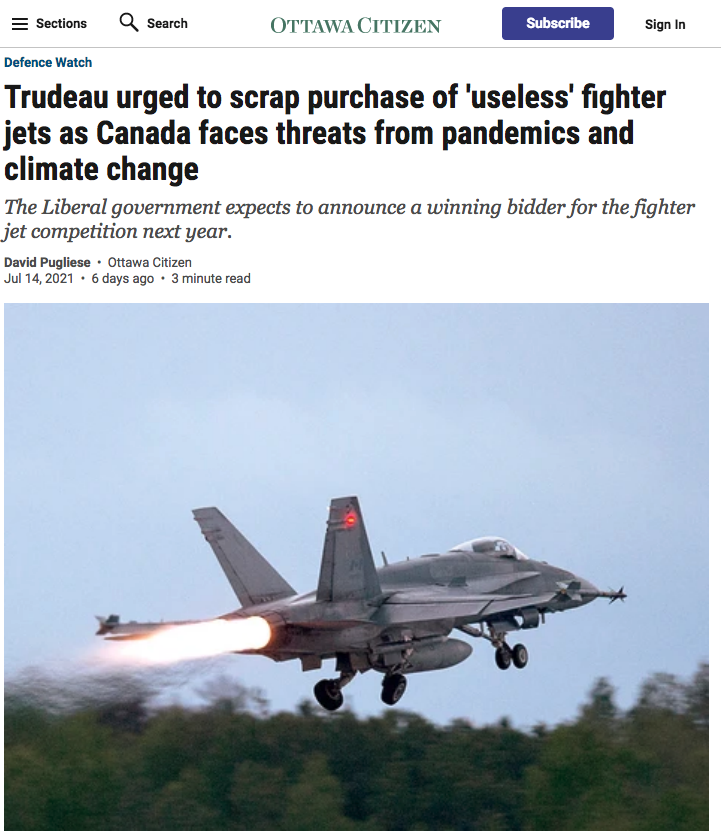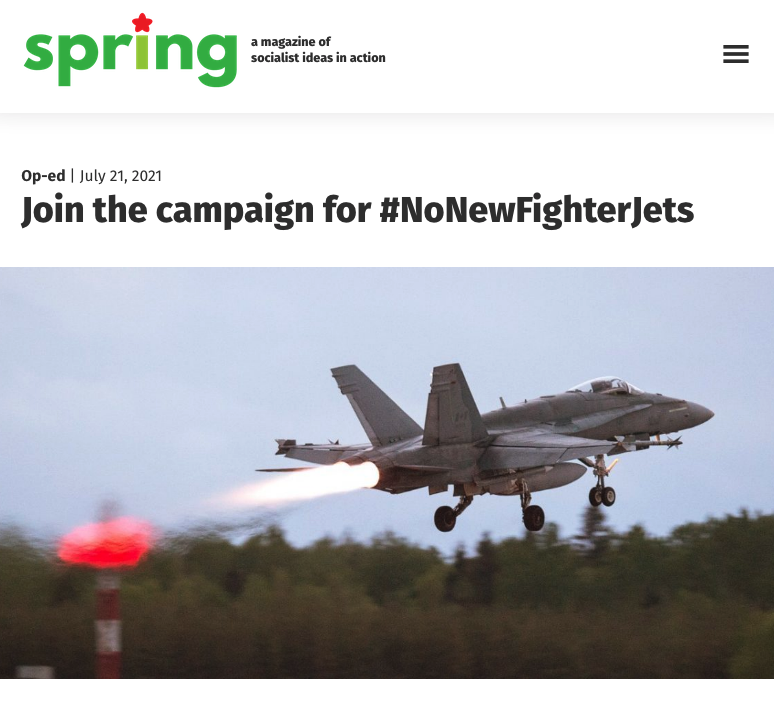 ---
Our new and improved Lockheed Martin ad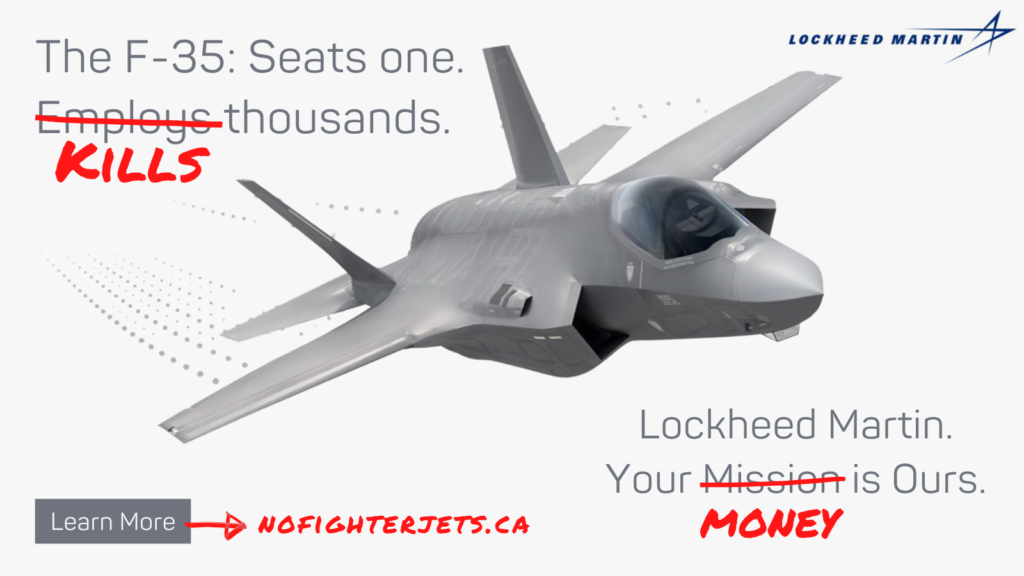 Lately we've been noticing Lockheed Martin fighter jet ads everywhere, and we know they're especially targeted at Canadian politicians. So we fact-checked one and placed the ad where tens of thousands of folks across Canada would see it – in online news media and on social media.
Help us make sure everyone who has seen Lockheed Martin's ubiquitous ads also sees our fact-checked version by sharing it on twitter and facebook.
---
Parliamentary Petition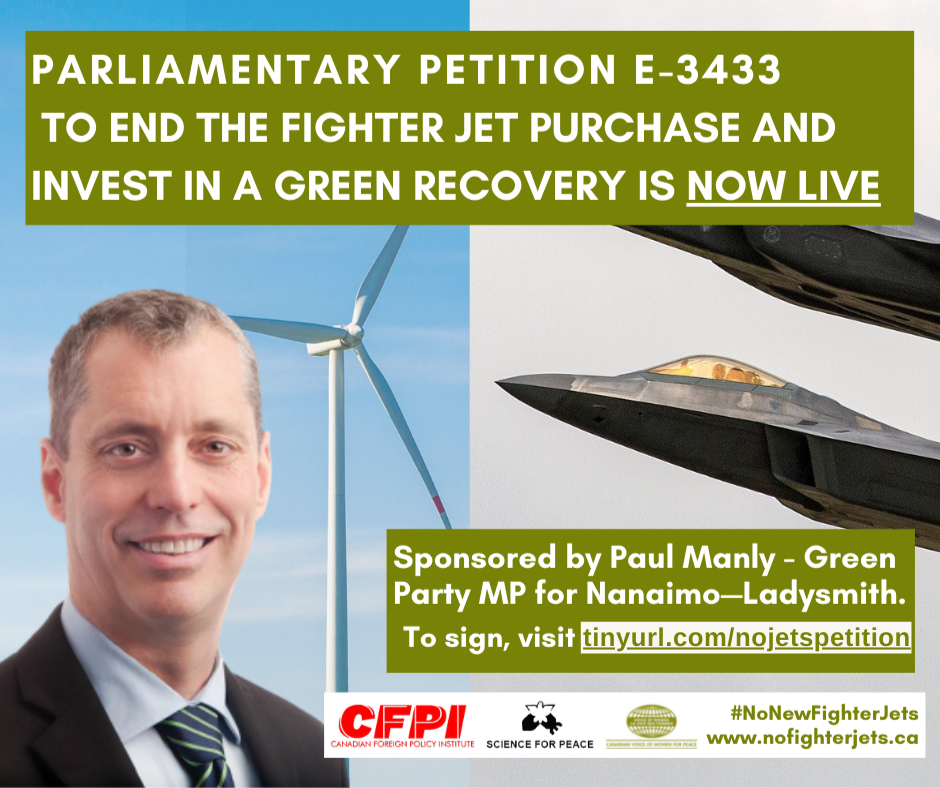 On May 19 2021 we launched a new parliamentary petition calling for Canada to cancel the fighter jet purchase, include the military's carbon emissions in the government's GHG emission reduction plan, and invest in a conversion plan to create thousands of jobs to help transition Canada away from fossil fuels and armed force. It was presented in the House of Commons on June 21.
---
Report: Uncovering the True Cost of 88 New Fighter Jets
On February 25 2021 the No Fighter Jets Coalition launched our first report, detailing the true cost of the planned jet purchase.
Download the full report as a pdf here.
---
Thank you to everyone who participated in the Fast to Stop the Jets
Across Canada on April 10 & 11 2021, public fasts, vigils, and demonstrations honoured those who have been killed by Canadian war planes and rejected Canada's plans to buy 88 new bomber jets. Two people, Vanessa Lanteigne and Brendan Martin, fasted for 14 days. Learn more here.
Learn more about the April 10 & 11 fast here. Watch the webinar where the fast to stop the jets was first announced here.