Why say no to fighter jets?
Death
The purpose of these jets is to drop bombs and kill people. Canada's current stock of fighter jets has spent the last few decades bombing Afghanistan, Libya, Iraq, Serbia, and Syria, prolonging violent conflict and contributing to massive humanitarian and refugee crises. These operations had an immediate deadly toll on human life (disproportionally children), and killed many more by destroying vital civilian infrastructure.
Cost
An upfront cost of $19 billion. At least $77 billion over the lifespan of the jets. The second most expensive procurement in Canadian history. That's money we need for healthcare, education, housing, clean water, and to address the true global threats we face, none of which can be bombed.
Climate
Jet fuel emissions are already enormous and accelerating the climate crisis. These new jets will lock us in to massive, deadly carbon emissions for the next 30 years, making any of Canada's climate targets impossible to achieve.
Webinar and Film Screening: The Trauma of Fighter Jets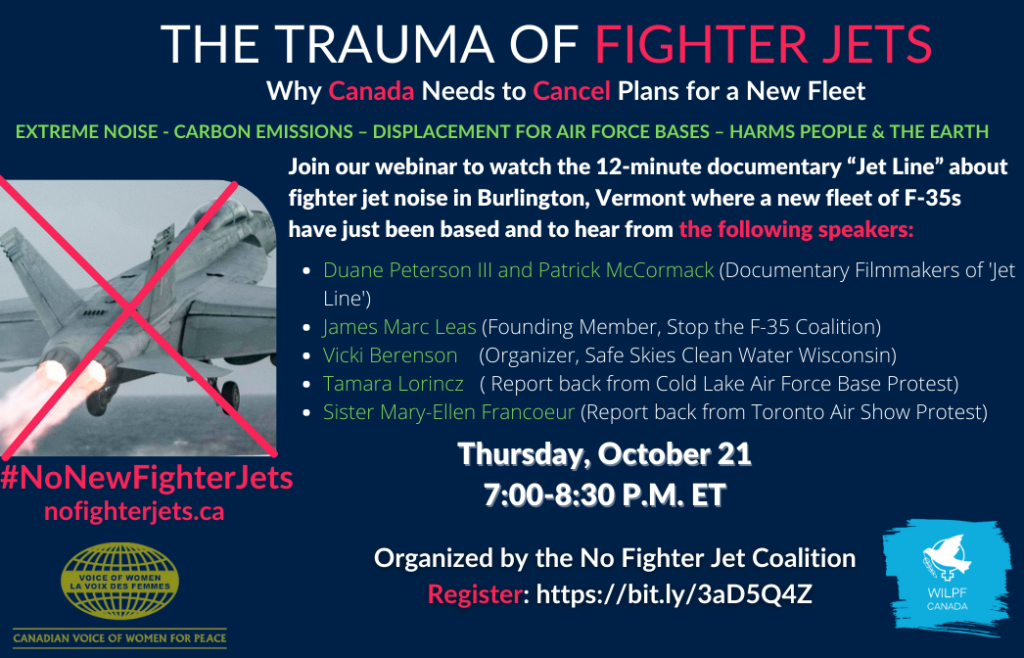 Thursday, October 21, 7:00-8:30 PM ET. Register here.
Join our webinar to watch the 12-minute documentary "Jet Line" about fighter jet noise in Burlington, Vermont where a new fleet of F-35s have just been based and to hear from activists from 'Stop the F-35 Coalition' in Vermont, "Safe Skies Clean Water" in Wisconsin and 'No Fighter Jets Coalition' in Canada.
Speakers include:
Duane Peterson III (Filmmaker, 'Jet Line')
Patrick Mccormack (Filmmaker, 'Jet Line')
James Marc Leas (Lawyer and organizer, 'Stop the F-35 Coalition' in Vermont)
Vicki Berenson (Organizer, Safe Skies Clean Water in Wisconsin)
Tamara Lorincz  (Member of VOW and WILPF-Canada, Report back on protest at Cold Lake Air Force Base)
Mary-Ellen Francoeur (Member of Pax Christi, Report back on the Canadian International Air Show, Toronto)
---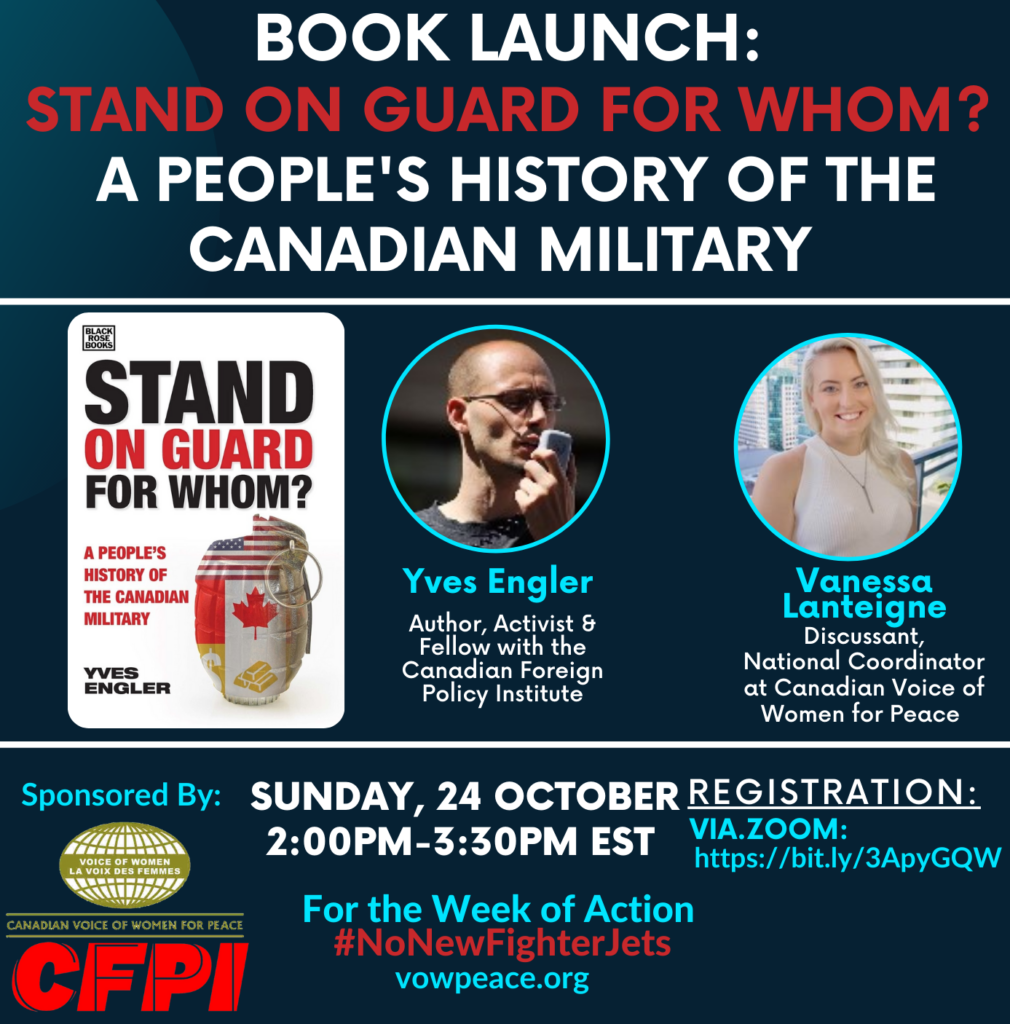 Sunday October 24, 2:00-3:00 PM ET. Register here.
---
NEW: Open letter launched!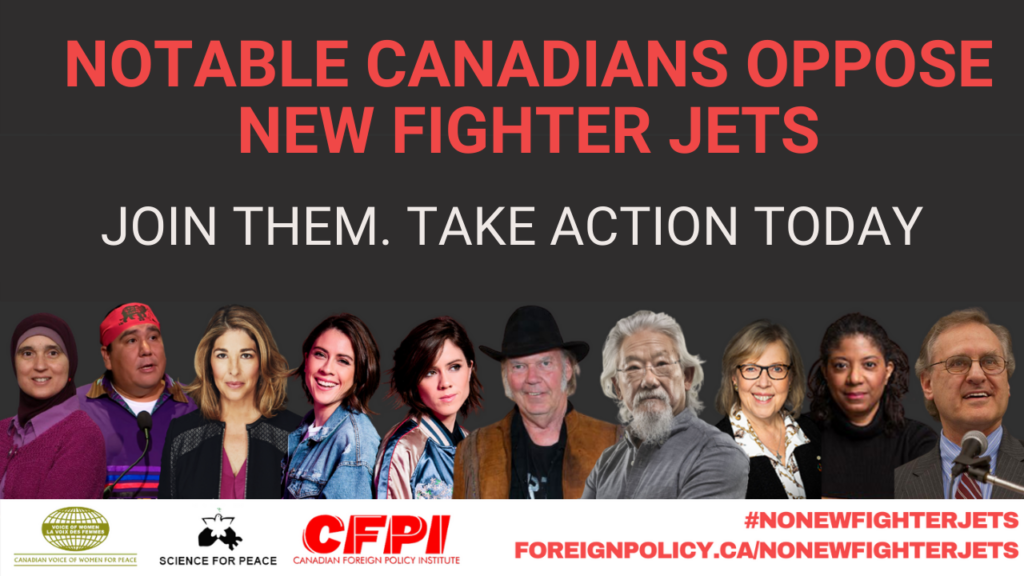 Over 100 public figures have joined us in asking Justin Trudeau and Harjit Sajjan to spend $77 billion on ensuring a just recovery instead of on new fighter jets! Read the letter and join them here!
Here's a sneak peek of some of the campaign's recent media coverage.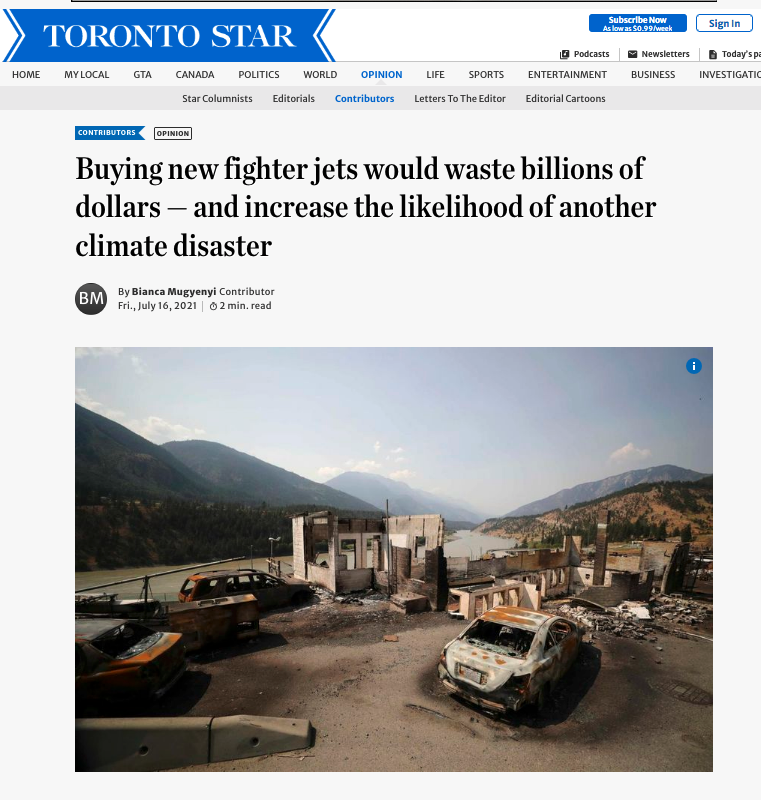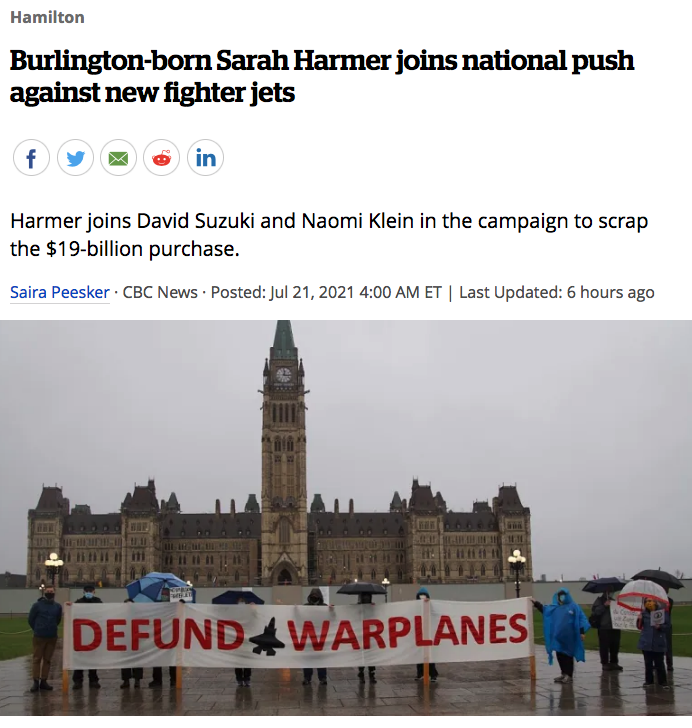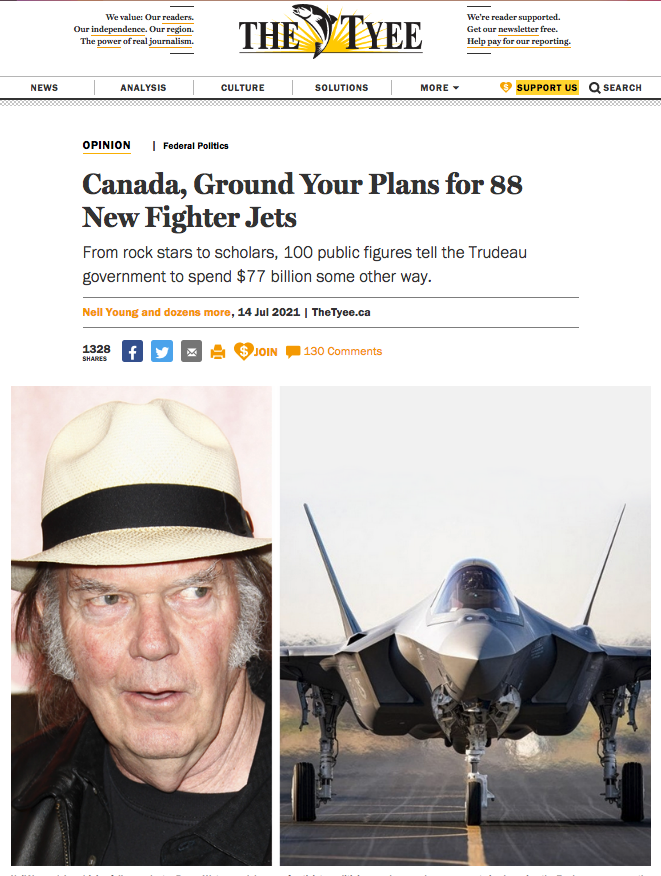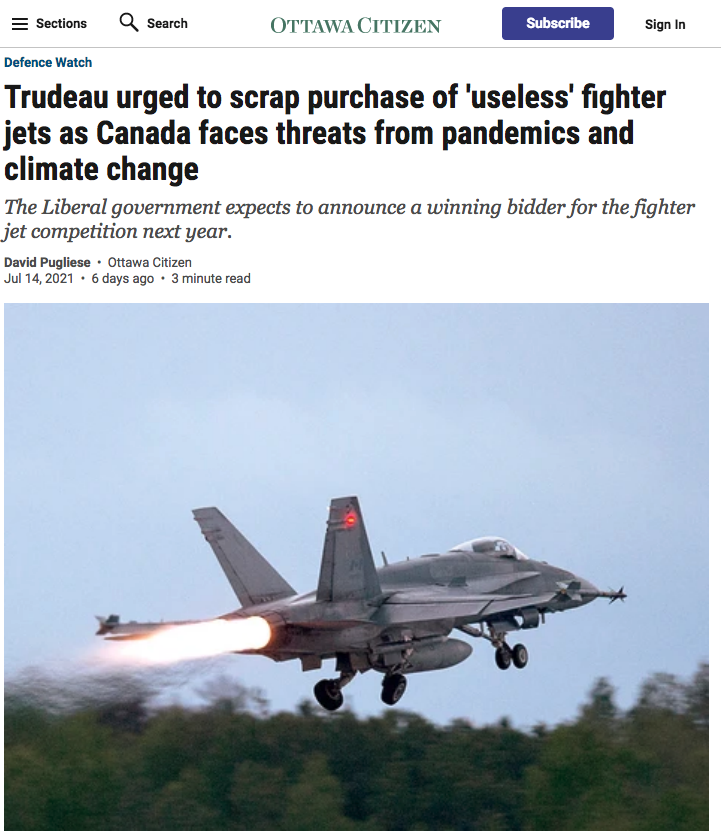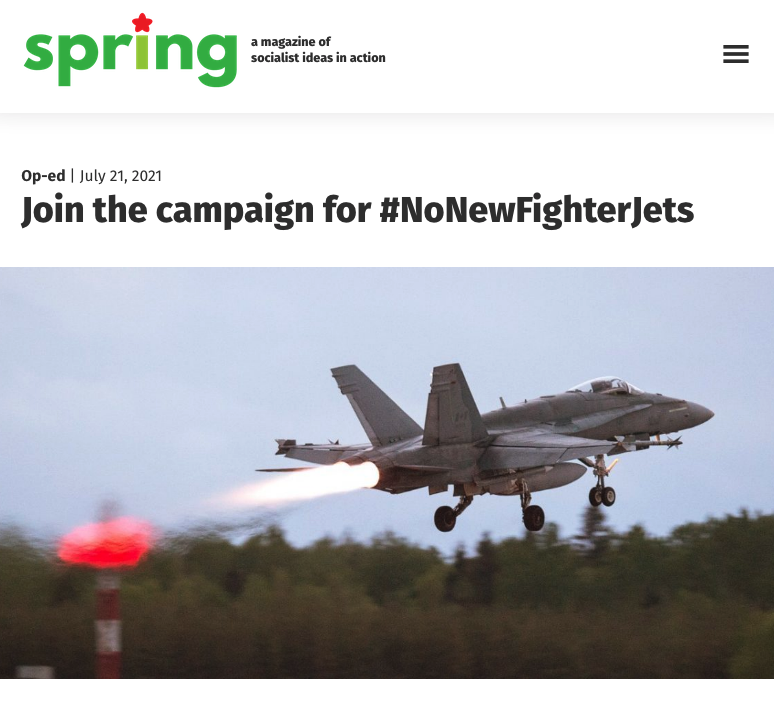 ---
Our new and improved Lockheed Martin ad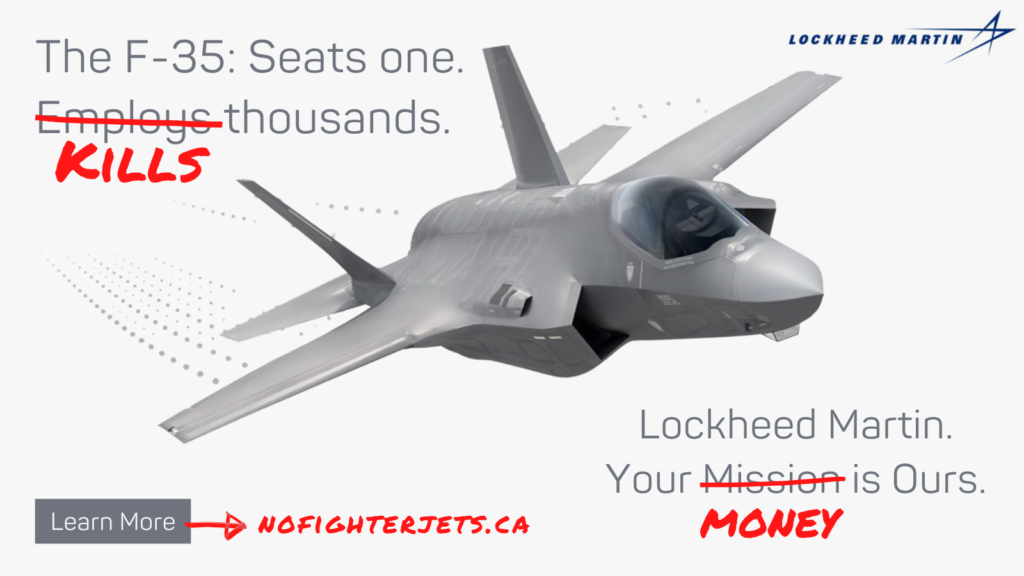 Lately we've been noticing Lockheed Martin fighter jet ads everywhere, and we know they're especially targeted at Canadian politicians. So we fact-checked one and placed the ad where tens of thousands of folks across Canada would see it – in online news media and on social media.
Help us make sure everyone who has seen Lockheed Martin's ubiquitous ads also sees our fact-checked version by sharing it on twitter and facebook.
---
Parliamentary Petition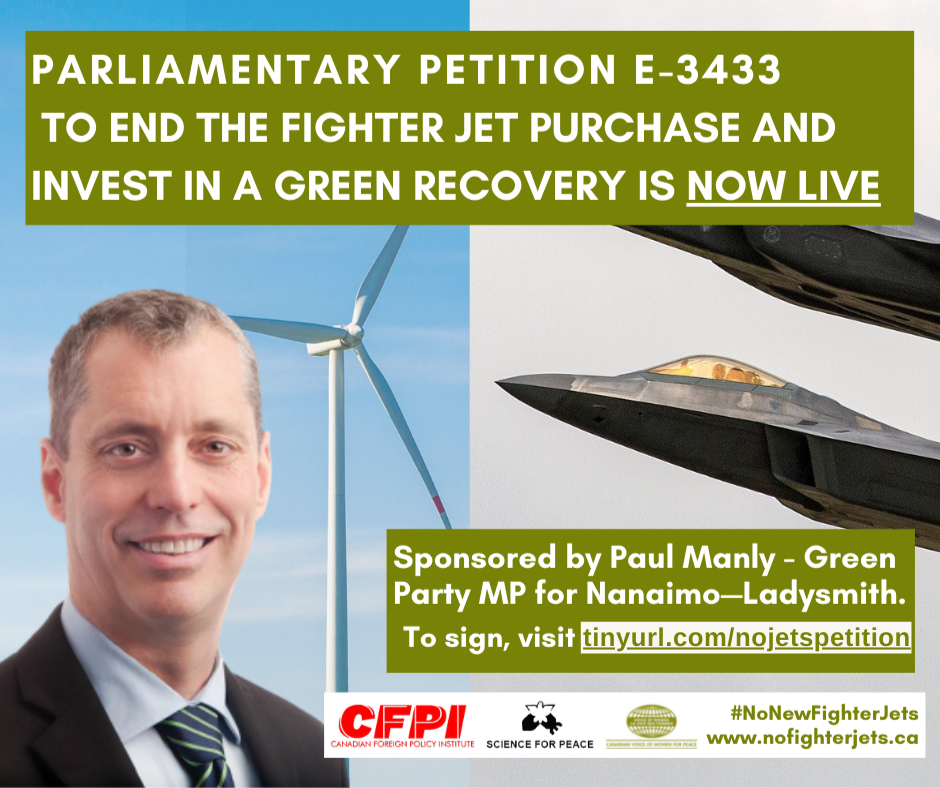 On May 19 2021 we launched a new parliamentary petition calling for Canada to cancel the fighter jet purchase, include the military's carbon emissions in the government's GHG emission reduction plan, and invest in a conversion plan to create thousands of jobs to help transition Canada away from fossil fuels and armed force. It was presented in the House of Commons on June 21.
---
Report: Uncovering the True Cost of 88 New Fighter Jets
On February 25 2021 the No Fighter Jets Coalition launched our first report, detailing the true cost of the planned jet purchase.
Download the full report as a pdf here.
---
Thank you to everyone who participated in the Fast to Stop the Jets
Across Canada on April 10 & 11 2021, public fasts, vigils, and demonstrations honoured those who have been killed by Canadian war planes and rejected Canada's plans to buy 88 new bomber jets. Two people, Vanessa Lanteigne and Brendan Martin, fasted for 14 days. Learn more here.
Learn more about the April 10 & 11 fast here. Watch the webinar where the fast to stop the jets was first announced here.
Learn More
reports, articles, webinars
We do not need new fighter jets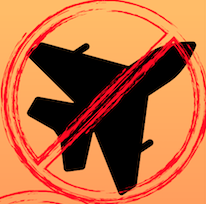 Even former Deputy Minister of Defence Charles Nixon stated that Canada does not face any credible threats and "new Canadian fighters are not required to protect Canada's populace or sovereignty."

As the renowned writer George Monbiot put it "If ever there were a time to reassess the genuine threats to our security and separate them from the self-interested aims of the weapons industry, this is it."
Get in Touch
Let's stop this together.