Why say no to fighter jets?
Death
The purpose of these jets is to drop bombs and kill people. Canada's current stock of fighter jets has spent the last few decades bombing Afghanistan, Libya, Iraq, Serbia, and Syria, prolonging violent conflict and contributing to massive humanitarian and refugee crises. These operations had an immediate deadly toll on human life (disproportionally children), and killed many more by destroying vital civilian infrastructure.
Cost
An upfront cost of $19 billion. At least $77 billion over the lifespan of the jets. The second most expensive procurement in Canadian history. That's money we need for healthcare, education, housing, clean water, and to address the true global threats we face, none of which can be bombed.
Climate
Jet fuel emissions are already enormous and accelerating the climate crisis. These new jets will lock us in to massive, deadly carbon emissions for the next 30 years, making any of Canada's climate targets impossible to achieve.
NDP must oppose F-35 purchase
The Liberals are moving towards acquiring 33% more F-35's than even Harper's Conservatives had planned to purchase. But the NDP has been largely silent as the Liberals look set to break their promise on the costly warplane the NDP have long opposed.
Take a minute to send a letter to the NDP leader Jagmeet Singh, NDP Defence Critic Lindsay Mathyssen, and all NDP MPs calling on them to start raising questions about the Liberal's fighter jet plans.
---
The #NoNewFighterJets Canada-Wide Week of Action is on!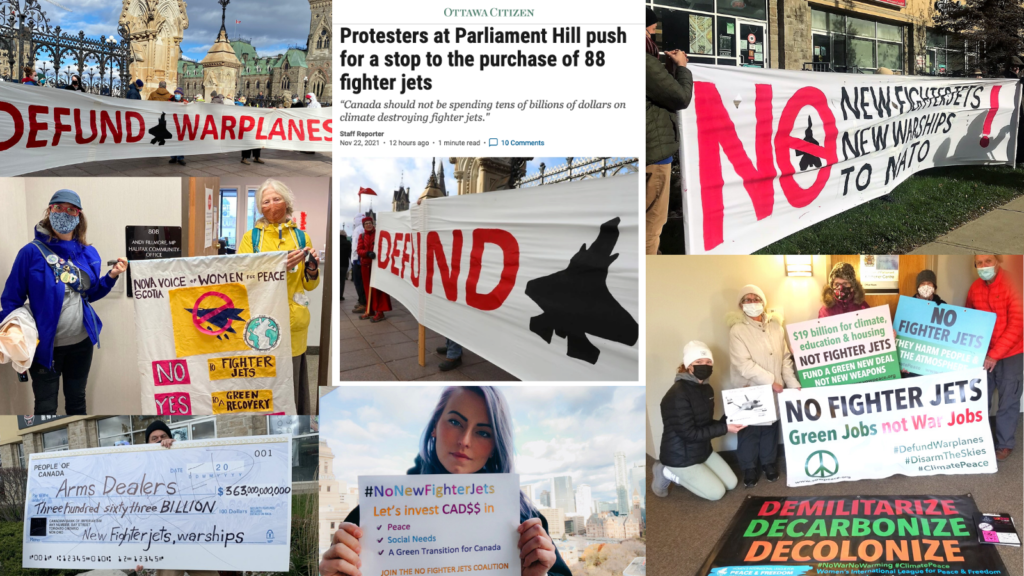 The No Fighter Jets Canada-Wide Week of Action has begun! from November 22-26 we're protesting to stop the federal government from buying 88 new fighter jets for $77 billion.

Learn more and join an action near you!
---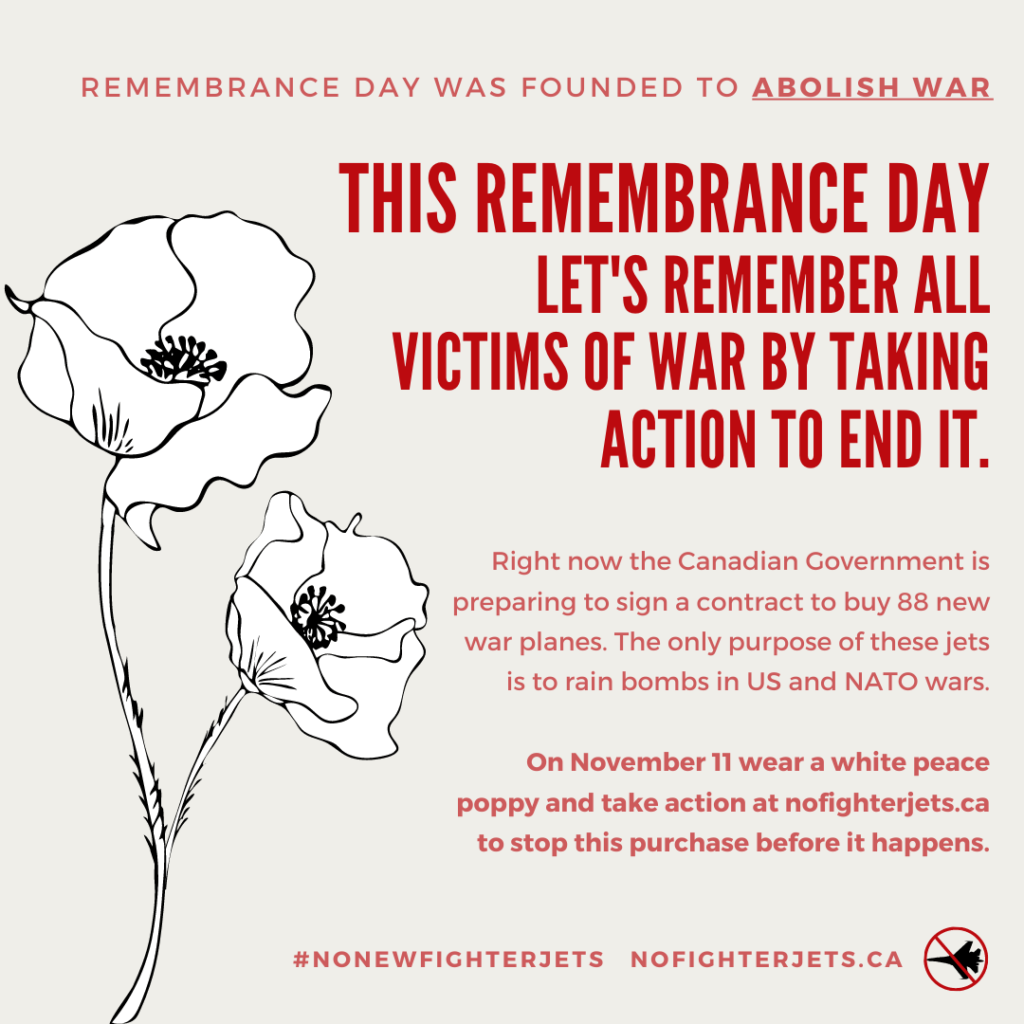 ---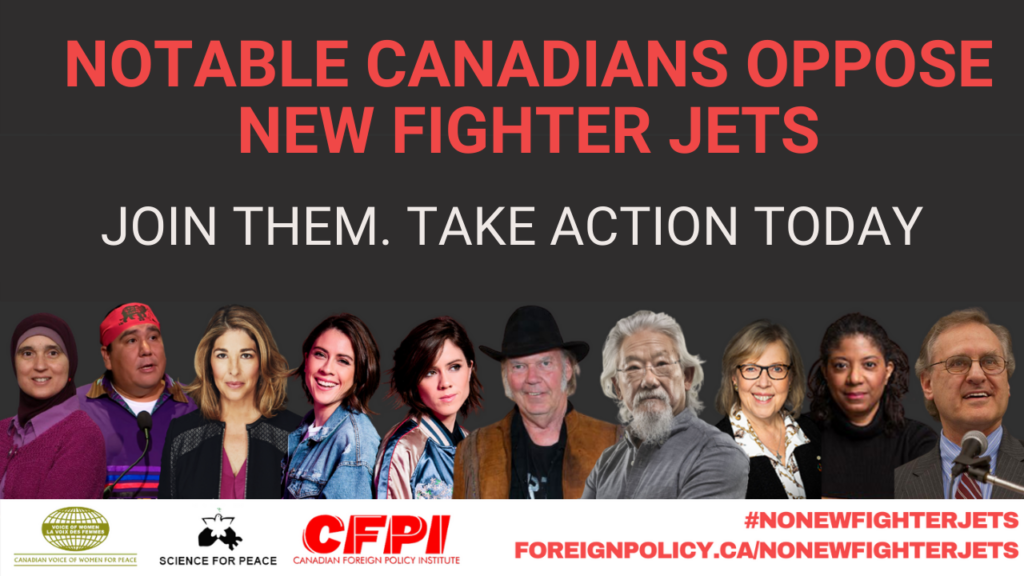 Over 100 public figures have joined us in asking Justin Trudeau and the Defense Minister to spend $77 billion on ensuring a just recovery instead of on new fighter jets! Read the letter and join them here!
Here's a sneak peek of some of the campaign's recent media coverage.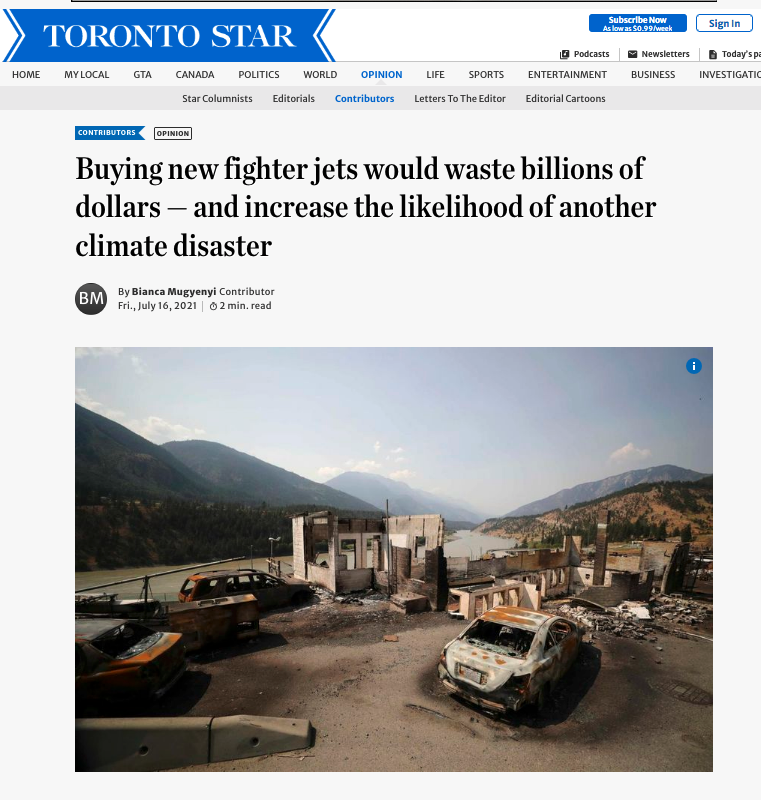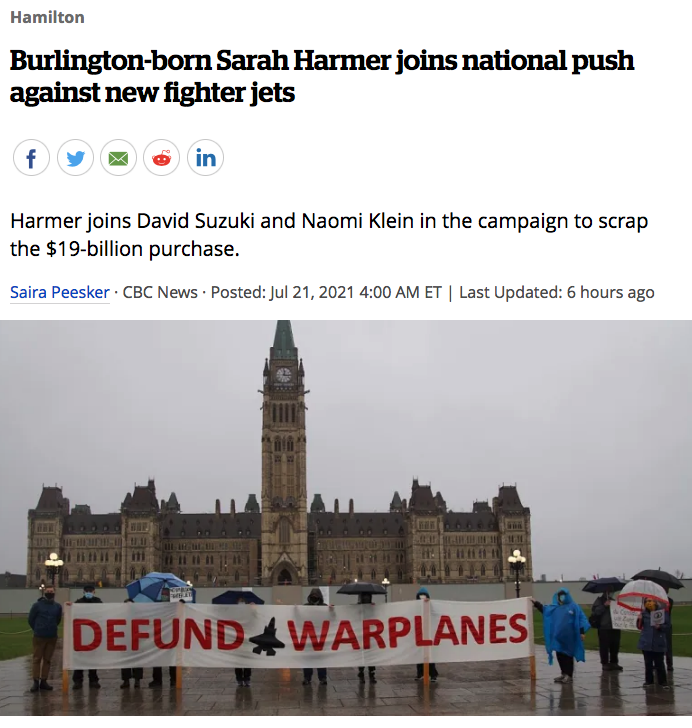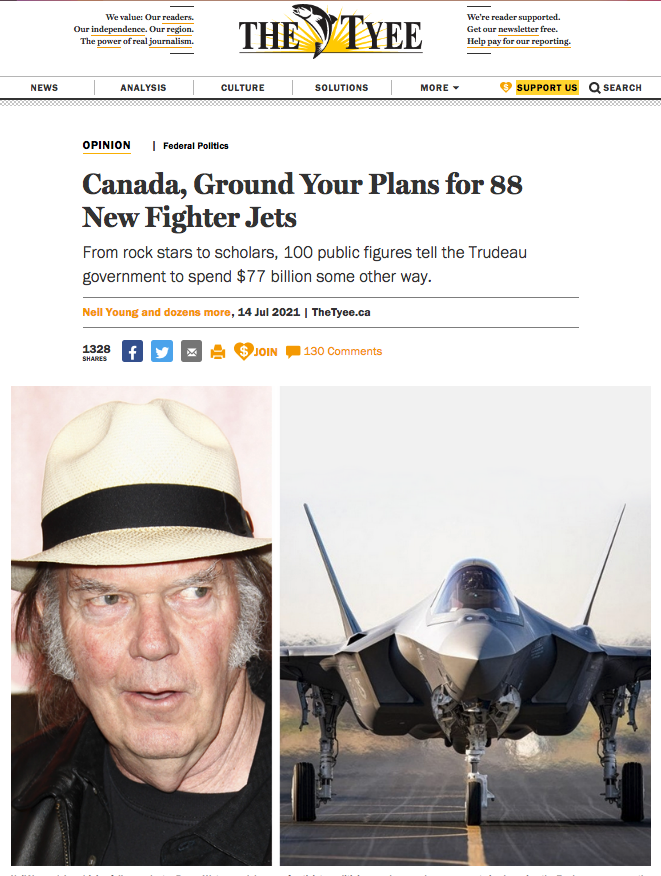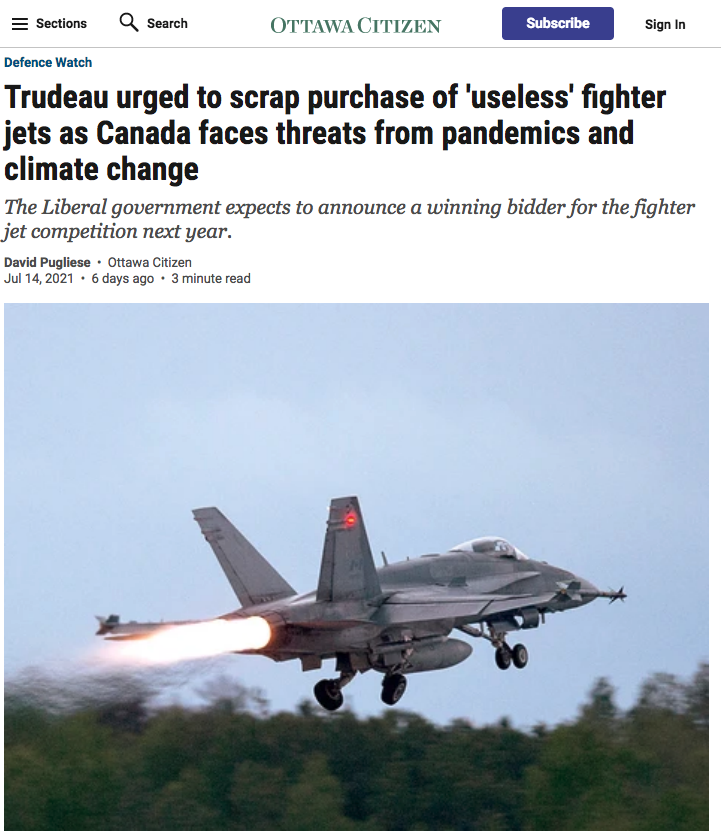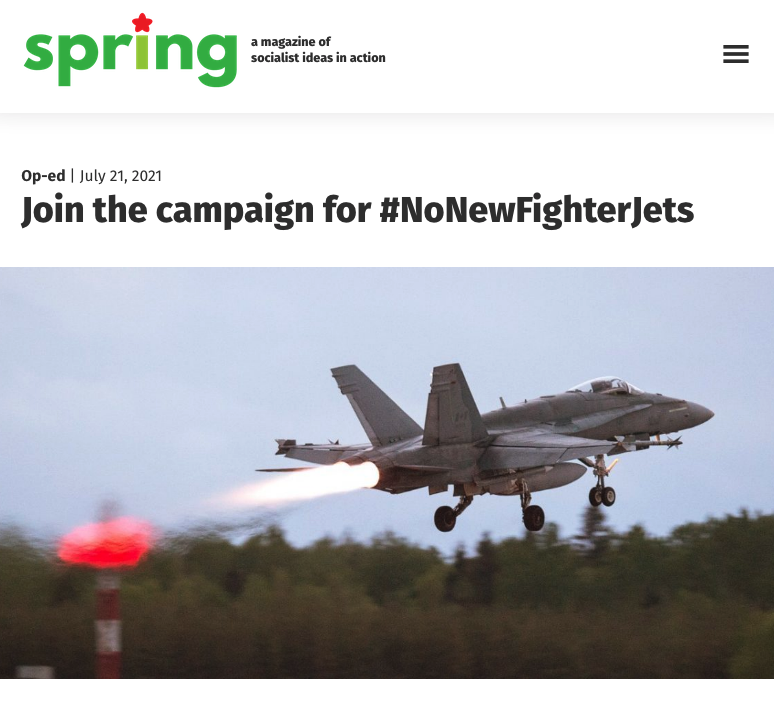 ---
Our new and improved Lockheed Martin ad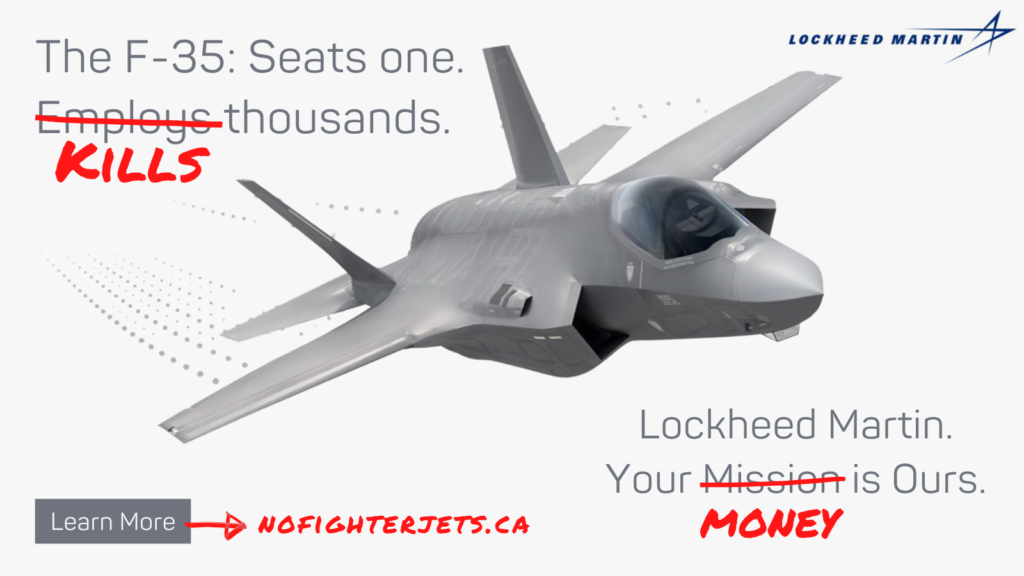 Lately we've been noticing Lockheed Martin fighter jet ads everywhere, and we know they're especially targeted at Canadian politicians. So we fact-checked one and placed the ad where tens of thousands of folks across Canada would see it – in online news media and on social media.
Help us make sure everyone who has seen Lockheed Martin's ubiquitous ads also sees our fact-checked version by sharing it on twitter and facebook.
---
Report: Uncovering the True Cost of 88 New Fighter Jets
On February 25 2021 the No Fighter Jets Coalition launched our first report, detailing the true cost of the planned jet purchase.
Download the full report as a pdf here.
---
Learn More
reports, articles, webinars
We do not need new fighter jets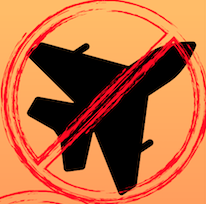 Even former Deputy Minister of Defence Charles Nixon stated that Canada does not face any credible threats and "new Canadian fighters are not required to protect Canada's populace or sovereignty."

As the renowned writer George Monbiot put it "If ever there were a time to reassess the genuine threats to our security and separate them from the self-interested aims of the weapons industry, this is it."
Get in Touch
Let's stop this together.